Fun in the Sun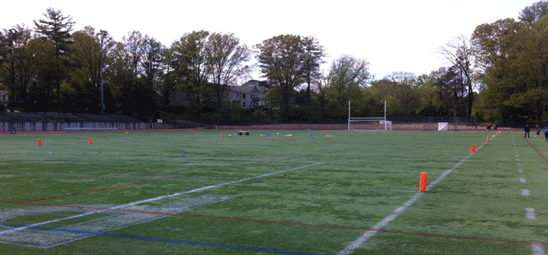 By Margaret Doyle
Sentry Staff Reporter
As the weather warms up, gym teachers are turning to the great outdoors to enliven their lesson plans. However, this change in scenery gets mixed reviews from P.E. students as they endure the humidity and 80 degree weather.
Physical education teacher Sarah Chikes says that one of the reasons for moving outside is because of a space crunch caused by ongoing construction.
"If we don't go outside we are limiting the variety of activities and sports we can offer. Not everything can be done inside," said Chikes.
Still, many students find themselves drooping in the heat and humidity. Sophomore Joe Freund, for one, worries that relocating vigorous units such as rugby and soccer into the intense outdoor heat might defeat the purpose of physical education altogether.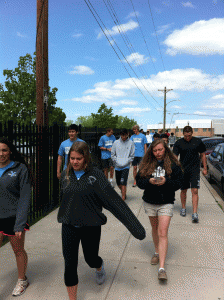 "Because kids don't want to get sweaty, they will be less active outdoors in the heat than indoors. This causes a lack of physical exertion, the opposite of what the gym teachers want," said Freund.
This dread of sweat leads some students to go so far as to ask to return indoors. Of course, such waddling away from physical activity is the last thing that a gym teacher wants to see. After all, there is widespread talk of an obesity epidemic, with an estimated one-third of children and teenagers considered to be overweight or obese.
"I personally have never asked my teacher to go back inside because of the heat, but I have heard others complain about it to their teachers," said Freund.
Beyond teaching specific skills, and giving students a mental break from their stressful day, the P.E. teachers are doing their part to fight against the nation's obesity epidemic.
Chikes believes that it is important for students to be able to handle the heat to an extent. However, the gym classes will not go outside whenever there is a Code Red Heat Alert. In addition, on some days when the temperature is especially hot the P.E. instructors will adjust their lesson plans so that the day's activity is less rigorous.
"If you are young and healthy you should be okay. You are going to really limit yourself if you can't deal with the heat, especially living in this area," said Chikes.
Fitness experts and educators alike even argue that while it may feel hot at the peak of the day, endless mental and physical benefits are reaped from 30 minutes of running around outdoors. Physical education advocates argue that activity in between classes calms the brain and opens it up to new learning. The fresh air is an added bonus. Doctors champion exercising in fresh air because it reduces stress and strengthens the immune system. Being outside in the sun also provides the body with vitamin D, an essential supplement for building strong bones.
Freshman Elana Filipos has no arguments with the professionals, and says she does not mind going outside for gym. In fact, Filipos even thinks that the fresh air and open space of the outdoors is preferable to the air-conditioned gymnasium.
"It's not that bad. It's a nice change from being in the gym every day," said Filipos.
To gain the advantages of physical activity while coping with the outdoor challenges, Chikes urges students to hydrate before class and wear hats for sun protection. Sunscreen helps, of course, and it is important to drink water during class even if you do not feel thirsty. For girls, even the simple act of tying up hair beforehand can make the weather more bearable.
"You are not outside for that long. Just try to enjoy it," said Filipos.