Dancing Without the Seniors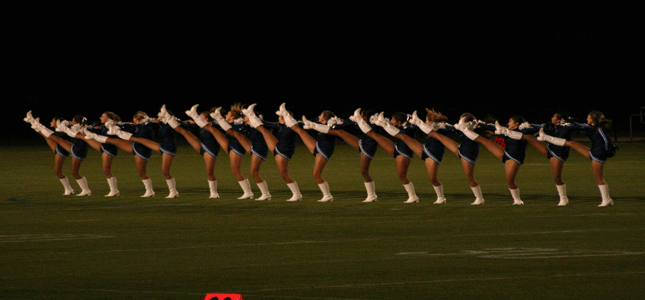 By Mike Poppalardo
Sentry Staff Reporter
Dancing with the stars–auditions start in May! With nine seniors boogying off to college, the remaining members of the Yorktown Dance Team must put the pieces back together for next season. With the 2012-2013 Dance Team consisting primarily of seniors, the team will need a lot of new dancers to fill up the seniors' spots. Departing seniors include captains Jessica Thurman and Lexi Allman, Caroline Porter, Callie Adams, Lauren McCabe, Rachel Alderfer, Morgan Timme, Kylee Self and Rachel Fahrenkrug. These seniors take with them their leadership, friendships, and many wonderful memories of the team.
"The seniors were such a big part of our team, and as underclassmen we will miss each and every one of them. We'll miss spending so much time with them, all the inside jokes, and the way they put smiles on our faces each day," said junior Hillary Jones.
These ladies make dancing look effortless. Many people think that their routines are easy, but that is far from true. When they perform at football and basketball games, they seem almost perfect. In order for that to happen, they need to practice as much as they can. Dancing is all about repetition: the more you practice, the better you will perform. The Yorktown Dance Team practices five days a week for two to three hours per day for ten months of the year. If dancing were any easier, it would be called football!
The seniors will miss everything about dance team and all of the memories that went along with it. Senior Kylee Self said,
"Dance Team was really what made up my high school career and it is what I will always remember about high school, so I am super thankful to have experienced it."
The team performs at every home football and basketball game, and competes in local competitions. They recently entered the "Reach the Beach" competition on February 24 and took home First Place, adding a giant surfboard to their collection of awards.
The team will need to step it up, and work extra hard in order to make next year even better than this year.  Jones explains,
"I think we will struggle a bit because we are losing half of the team, but I also think we have the potential to build our team up again."
With tryouts in May, and many spots open, girls from all grades should try out. Any girl can try out as long as she maintains a 3.0 grade point average and is willing to make a commitment (a big one!) to the team. Self adds,
"It will definitely be strange for them to lose half of the team, but it is always a weird transition after the seniors leave, but I am sure they will be fine. Plus, they have some great leaders still left on the team to set up and take charge!"
If you find yourself tapping to your iPod or dancing in the shower, maybe the dance team is for you. Tap on over and try out!