An Open Letter to our MVP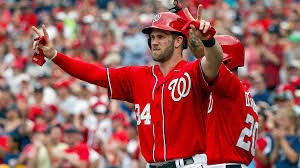 Maddie McNamee, Sentry Staff Reporter
May 26, 2016
Dear Bryce Harper,
Every time I see one of the famous Harper instagrams with the hashtag "DCorNothing", I gain a little hope. Suddenly, I forget the depressing rumors saying that you were always meant to be a Yankee, and how your years as a National are almost over. It is well known you're a player well worth a $400-500 million contract, but as cheesy as it sounds, I believe you're worth the best fans as well. While it is possible that DC may not have the money for your contract ending in 2018, I am positive that we can give you the fans and support you deserve. I may not have $500 million laying around, but I say we make a deal now. How does $20, some bubble gum and unconditional support sound?
My favorite video of all time has got to be your "DC I'm home" video. I liked it on Instagram, retweeted it on Twitter and sent it to my parents and all of my friends. Everything about it was absolutely perfect, from the beanie, to the filming while driving, to Shawn Mendes' "Stitches" playing in the background. Most of all, the video truly captures your love for DC and its fans, the fans that have actually seen you grow up. DC fans stood by you throughout your youth, when other teams mocked your childish and immature actions. New York fans bashed you, saying that you would never learn, but DC fans were the ones to laugh it off. We are the fans who will always be there for you. It seems only fair that you nurture the same relationship with DC baseball.
It seems almost too easy to bring up your statistics as a reason to stay in DC. You are without a doubt our most valuable player–no one can top your performance on the field. While this may seem like some mushy flattering to win your heart over, it is simply the truth, as you hit .330 last season with 42 home-runs, .460 on base percentage and a .649 slugging percentage. Your statistics are beyond impressive, but a lot of the credit has to be given to the team that surrounds you: it is the environment of the Nationals that plays a part in your success. While it is true that without you, the Nats would have been completely screwed in 2015, the mentoring of Ryan Zimmerman, Jayson Werth and former National Ian Desmond helped shape you into the successful player you are. It is widely known that baseball is a superstitious sport, and I do not want to jinx anything, but it is possible that switching teams could disrupt your flow and consistent batting patterns. Players often switch teams because they want a team that wins, and that is what the Nationals will do for you–just ask Max Scherzer. DC is the city that built you, and it seems almost unfair to lose the heart of the lineup, the heart of the team and the hearts of fans.
If your goal is to win a World Series, then DC is the place to do so. While the Yankees may have a history of taking home the coveted rings, this is the reputation the Nats will soon gain. The Nationals have continuously been chosen as the team with the most potential, and they are long overdue their World Series rings. The team may have failed to live up to these expectations in the past, but with Dusty Baker managing the team and fresh new talent ahead, it is clear that the a World Series win is on the horizon for DC. Would you really want to leave the team right before they claim the title of world champions?  And for what team, the Yankees? Sure, the Yankees have money, but right now they are currently third in the American League East, while the Nationals are first in the National League East. $500 million from a losing team, or a priceless World Series ring from the Nats? Your choice.
Maybe I'm getting ahead of myself, as 2018 is still two years away. But maybe I'm not. Two years ago I was a freshman with low expectations for a new season with a new manager. Flash forward, and I am a junior with high expectations for a new season with a new manager. So much has changed in the past two years, but somehow it all feels too similar, as if I am still a freshman and you are still a 21-year-old figuring out how to slide without breaking a thumb.
Those two years felt like nothing, and I fear that the same will happen with the time between now and 2018. Your time in DC has flown by (which makes sense, considering time flies when you are having fun and you are the one who is going to "make baseball fun again"). I just hope that you choose to stay in DC, so I do not have to worry about the next two years flying by, so DC can keep our beloved fashion icon, foodie and baseball superstar. For now, I guess all I can do is hope that when you say "DC or Nothing", you really mean it.
Sincerely,
Maddie McNamee