Talent Hidden in the Field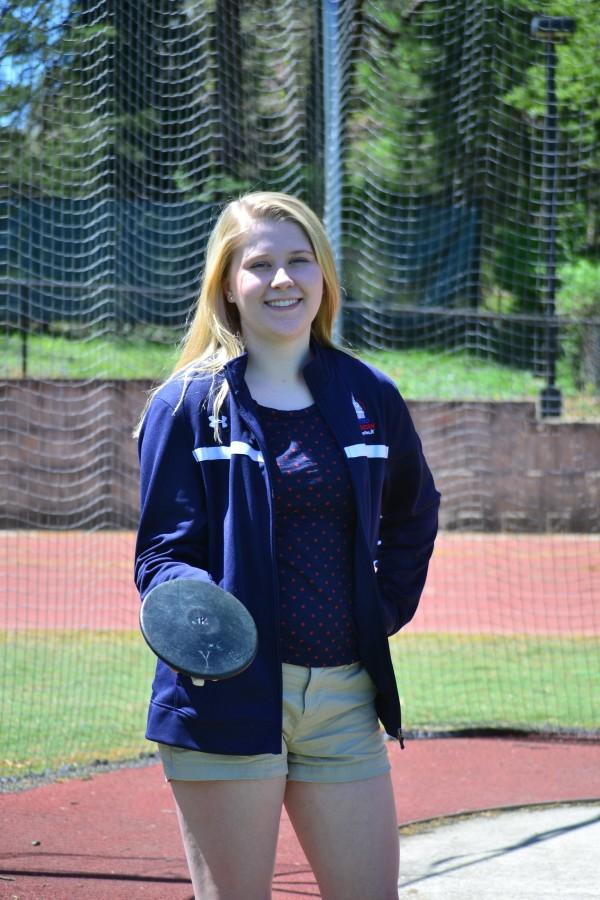 Maddie Dettling, Sentry Staff Reporter
April 28, 2016
Like track's lesser known but equally cool sibling, the field aspect of outdoor track and field combines upper body strength and general agility to a degree that can not be found in any race. In fact, many may have seen the team practicing on the track heaving objects that weigh as much as a small dog and attempting to jump as far as fifteen feet in one leap. Such is just a normal day in the life of a field athlete.
The season runs the typical length of spring sports, from the end of February to mid May. Athletes can choose to participate in the shot put, discus throw, high jump, long jump or triple jump events, all of which are equally challenging in their own right. The shot put event requires boys to lift a 12 pound ball and girls to lift an 8.8 pound ball (the "shot"), which they then launch as far as possible. Discus follows along the same lines, with competitors throwing a heavy disc in an attempt to mark a distance further than the opposition.
Sophomore Dina Liacopoulos, who participates in multiple events, said that throwing involves, "a lot of upper body [strength], and it's also a lot of momentum."
This combined with different techniques for moving the body make shot put and discus difficult to master. During the season, these athletes are training both during practice, where they work on their various techniques, and on their own time by lifting weights.
Long jump, high jump and triple jump provide contrast to the upper body focus of throwing events, as a crucial part of a jump is the sprint or steps just before it the leap. However, because the high jump equipment requires more maintenance, it is typically only set up once a week.
While throwing a disc across a field or jumping over some hurdles may look easy, the strength and technique it takes to actually do so is incomparable.
Coach Michael Smalley added, "Field athletes have to be disciplined and focused, they have to pay very close attention to detail. You have to remember what you've been coached to do because there are a lot of components in having a good jump or a good throw.  In long jump, if you stutter step as you're approaching the board, your jump won't be as good as it could have been without stutter stepping. In discus, if you don't keep the discus back and your thumb down on it, your throw isn't going as far.  In shot put, if your don't keep the shot in front of your shoulder, your elbow will drop and it won't be a good throw."
Field events are unlike any other sport in that they focus on each athlete while still retaining a team atmosphere. Junior and shot put competitor Christian Cleaveland cited this as his favorite part of the events.
"I like how the field events are individual while competing, but you still get encouragement from your teammates. I also like how you get to compete against other schools," Cleaveland said.
The individualized nature of the sport also makes the athlete compete against themselves as well as their opponent. Regardless of the outcome of a meet, the athlete can take home a sense of accomplishment.
Smalley added, "Each meet you want to try to better your mark from the previous meet. You're always striving to get your "Personal Record" or PR. Hopefully you can get your PR and score some points towards your overall team score."
While field meets may not be a social event to rival football or basketball, the fierce determination of the athletes raises the intensity to contend with them. Each athlete steps up to compete alone, but the love of such a unique sport bonds teammates like nothing else can. After all, as Smalley said, "there is a certain camaraderie in track and field that you don't find in other sports."