One Person Shows 2016
Valerie Yoder as Max: Where the Wild Things Are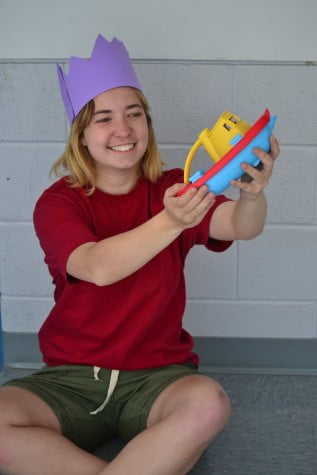 Almost every person, at one point during their childhood, read Where the Wild Things Are, a story about a boy named Max who, in his dreams, becomes the king of the wild things. However, senior Valerie Yoder only recently discovered the story. Yoder knew that she wanted the subject of her one person show to be a kid, so when she found Where the Wild Things Are, she fell in love with it and wanted to put her own twist on it. In order to make this story her own, Yoder is depicting Max during his adolescence as well as during his childhood. Instead of entering the land of the wild things while dreaming, as he did during his childhood, teenage Max struggles with depression and returns to the land of the wild things whilst tripping on drugs. This gives Max a false sense of control because as king, he is in charge of the wild things, but in reality he does not even have control of himself.
"It is okay to not be okay. And it is okay to not be in control, but you have to realize first that you are not in control before you can really work on yourself." said Yoder when asked about the message she is trying to convey during her show.
This message is undoubtedly valuable, and could even apply to the difficult process of generating a one person show. For Yoder, the most challenging part was actually writing the play.
"Sitting down and actually writing it… I have all these ideas and I just have to narrow it down… you do need outside input, and I think that has been the most helpful for me."  said Yoder.
However, there are definitely advantages to organizing a show by yourself.
"You are your own director, so if you do not like anything, you can scrap it," said Yoder.
Overall, Yoder described the process as a "creativity boost" and something that has helped her "become self aware."
Elle Hawley as Viola Gregg Liuzzo: The Housewife Who Moved a Nation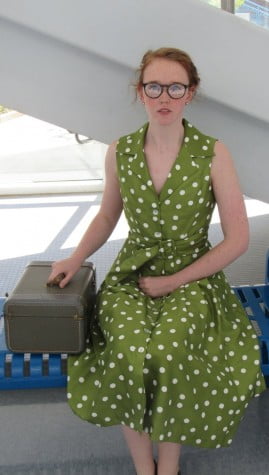 Civil rights has always been a passion of senior Elle Hawley's, so when asked to compose a list of possible subjects for her one person show, it is not surprising that Viola Gregg Liuzzo, discovered by Hawley on Time Magazine's list of the Most Influential Women That You Do Not Know About, made it onto the list. After debating whether or not to choose Liuzzo as her subject, Hawley saw her appear in Selma and was very inspired by her character. For her show, Hawley decided to focus less on Liuzzo's childhood and more on her transition into an activist. Liuzzo grew up with a very fixed set of beliefs ingrained into her mind; however, as she grew older and witnessed certain events, she overcame those beliefs and dedicated herself to the civil rights movement. By choosing to focus on Liuzzo's change in beliefs, Hawley conveys the message that each individual can establish his own beliefs despite what they are taught to regard as true.
"Everyone has the capacity to change… The whole thing about being a human is deciding what you stand for" said Hawley.
To continue, the most difficult part of depicting Liuzzo was learning to understand racism and the fear that people experienced during the time of the civil rights movement. To improve her understanding of the subject, Hawley read The Heart of Darkness by Joseph Conrad.
"It is incredibly racist… it pretty much [shows] the unconscious fear that people have of people who are different… It's hard to understand people's beliefs that you do not hold. I think that is the hardest, for everyone in my class," said Hawley.
Aryn Geier as Mother Gothel: The Outside World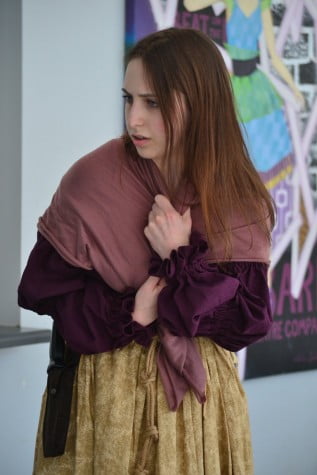 In every fairytale, there is a hero and a villain, and in most cases, the story is told from the hero's point of view. Rapunzel had always been a favorite fairy tale of senior Aryn Geier's, so naturally, she decided to focus her one person show around that story. However, she wanted to base her show off of the original fairy tale, as the original stories tend to be much darker than the tales we know today.
"It has a happy ending, but the happy ending does not negate the suffering and hardship that the characters go through," said Geier.
Originally, Geier wanted to make Rapunzel the subject of her show but after reading the original Grimm Brothers' Rapunzel, the character of Mother Gothel captured her attention. Most view her as a selfish villain, but Geier saw a side of her that was deeply complex and was acting out of love for her adopted daughter, desiring only to protect her from the dangers of the world. Much like the Wizard of Oz spin-off Wicked, Geier's show tells the story through the eyes of the said "villain" of the story. Through her show, Geier is attempting to convey the message that you cannot live your life in fear.
"The world is scary… so often we let that fear overwhelm us, and overpower us to the point where you aren't truly living… Life is short, and it is way too short to live in constant fear of everything around you," said Geier.
Additionally, Geier is interested in turning her one person show into a full length play, which she plans to work on this summer.
Noah Shoultz as Tite Kubo: All of the Colors of Life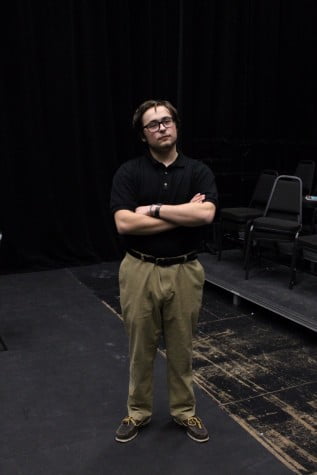 Noriaki Kubo, otherwise known by his pen name, Tite Kubo, is a world famous author who has somehow managed to conceal most of his life from the public. After reading his manga series Bleach, senior Noah Shoultz became interested in the author as after learning that he continues to do his work, which involves a large amount of inking and handwork, despite having arthritis in both of his hands. Unfortunately, there is not much more that Shoultz has been able to learn about Kubo, except for the fact that he is married (which he only knows because Kubo let it slip during a press conference). Seeing to this, most of Shoultz's show is fictitious. In Shoultz's show, Kubo helps a young author find his own strength, which allows Shoultz to convey the message that one's own experiences can inspire others and help them overcome any hardships they are going through themselves.
"Your past experiences, the hardships in your life… you can use those as a teachable moment and you can inspire other people to go through whatever they are having a hard time with," said Shoultz.
Furthermore, Shoultz, who also described himself as a horrible procrastinator, explained what he struggled with most when creating his one person show.
"The most difficult part for me is actually writing it out in a script… whenever I'm writing out a story, I visualize and build a world in my head… and see everything in my head exactly how it is supposed to be… then I can think about how to translate that theatrically to the stage," said Shoultz.
Carl Lasker as Dominick Cobb: Dreams of Exoneration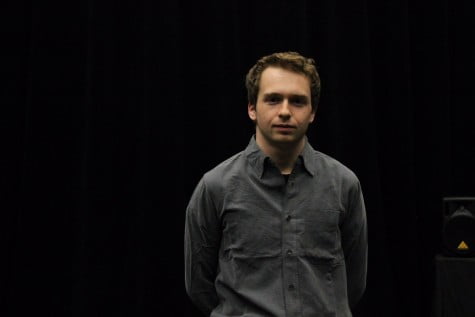 Most people know Dominick Cobb as the protagonist of the mind-altering movie Inception, in which he is falsely accused of murdering his wife and the mother of his children. This time, you will know Cobb as played by senior Carl Lasker in his one person show. Much like the movie, Lasker's show involves the worlds of both dreams and reality.
"The show dabbles into the difference between dreams and reality, which I have always found interesting," said Lasker.
Lasker undoubtedly displays a strong interest in and dedication to the subject of his show, as he described this process as the most intense project and commitment he has ever dedicated himself to. He found being alone in the process put everything in his control, which ended up being both a blessing and a curse. However, being able to do all of the work for his show himself benefited him. Overall, the process of creating a one person show was a positive experience for Lasker.
"I think it has been so enjoyable because I have been able to create something that is entirely me in every aspect," said Lasker.
Jade Mellor as Thalia Grace: Blood and Water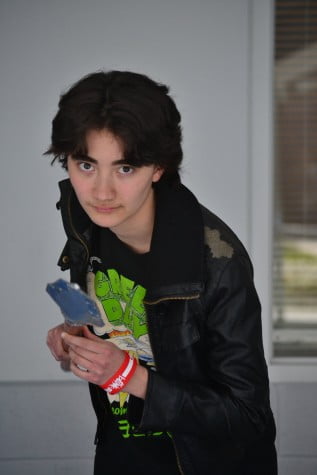 Percy Jackson: the series that many kids binged on during middle school. Now those days can be relived through  senior Jade Mellor's one person show. Mellor chose this concentration because of the large influence the series has on her while growing up.
Unlike the story we are used to, however, Mellor tells the story from a different point of view. In this 30 minute piece, Mellor is Thalia Grace also known as Tree Girl, the daughter of Zeus
Each show has a statement that the plot follows, for Mellor the statement is close to her heart.
"You must protect the family that you create. I really fully believe that family is not just defined by blood. Your friends are essentially the family you choose for yourself. I knew with Thalia I could tell a story about creating a family and protecting them and in this case, dying to protect them. I feel very passionate about loyalty and protecting people I care about."
Mellor chose the statement based off of Thalia. Thalia has key relationships with her friends Luke and Annabeth that Mellor said showcased her statement perfectly. As for the piece's abstraction, Thalia becomes as tree throughout the show otherwise known as Treedom.
While working day in and day out on the show, Mellor's most surprising thing she learn was "as you do the process you realize that I have the ability, that I can do this. We all have the ability, we all can do this."
These plays are extremely difficult and take a big toll on the performer. It is no wonder Mellor is looking forward to a particular end-of-production tradition.
"The post-show hug. All the people in your class rush to hug you. I have seen in all the other years and it looks like the coolest moment. It is like a 25 person group hug. It is all that love, all that squish."
And finally, Mellor has a warning to all those who watch.
"I have a spear, do not be scared."
Amy Butler as Idgie Threadgoode: Tragedy Strikes Whistle Stop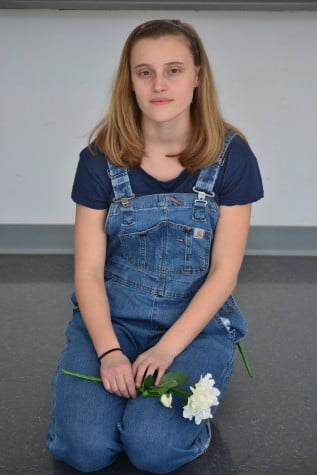 Fried Green Tomatoes is a classic coming of age tale. Senior Amy Butler has decided to take on the free-spirited Idgie Threadgoode for her show.  
"I love the movie, I have been watching it for awhile. I see a lot of myself in Idgie personality wise because I am really stubborn," said Butler as to her inspiration behind choosing Threadgoode.
The statement is a thesis the play follows and an abstraction is a key visual aspect in the show. Butler's statement is that you must accept the help available to you to overcome your circumstances; her abstraction is the red wash but used in Idgie's inner dialogue. The red wash is a lighting technique used in the show to show a switch of scenes. Without the change of wash color, it would not be clear that Threadgoode's thoughts are inside her head instead of out loud. The statement is perfect for the character if you have ever seen the movie or read the book. Threadgoode goes through a series of ups and downs in her life, as we all do, but has people around her like her friend Ruth to help her.
"It is kind of scary. I am going to miss my theater class. It is really exciting in that 'oh I am doing this really cool thing' but it is also upsetting because I am leaving my friends and family," said Butler on her ambivalent feelings towards the show coming up.
Finally Butler gives praise to those around her.
"It is a one person show but it is really not. I could not do this without my classmates. During class they give me notes when I present and it is really important because they tell me what does not make sense," said Butler.
Seems like her statement of letting others help is true in her real life too.
Mary Gay as Mary Poppins: Just a Spoon Full of Sugar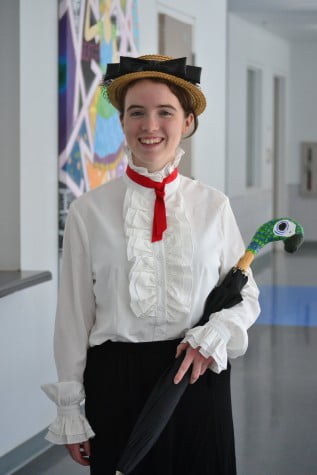 She is British, she is posh, she has magic and she is the nanny. From that sentence, scenes from the iconic Mary Poppins floods many people's minds. Senior Mary Gay has taken on the role for her One Person Show. It is quite supercalifragilisticexpialidocious.
Gay had trouble at the beginning of the writing process. Liesel Meminger from the Book Thief was her original choice. After finding it was difficult to make it work, she scrapped the idea and went for something more close to home. Furthermore, Gay also liked her statement for Mary Poppins more, which is that finding confidence in your abilities can bring happiness. The statement is the theme of which the play follows and is the basis of what happens. The abstraction of the piece is a visual in the show that develops throughout the play. Gay's abstraction is a kite. .
"Keep in mind that when you come to see my show she doesn't have magic. Just her as  a person and her character  because that's what I liked about her; the humanness of her. It's a little bit darker at the beginning because it's about ups and downs and the roller coaster of life. I don't sing or fly so I'm not the original Mary Poppins," said Gay of what to keep in mind before watching and how Poppins is different in this production.
After years of practice and countless hours dedicated to this show, Gay cannot wait for her post show hug.
Charlotte Crockett as Édith Piaf: Pour Toujours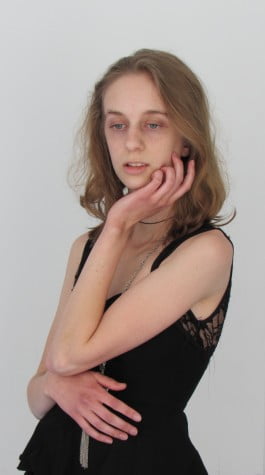 If you have taken French IV or have a love for french music, you most definitely know the name Édith Piaf. Ring any bells? If not, Édith Piaf was the most famous french singer and actress on a worldwide scale, like ever. Her beautiful voice and lyrics have been touching people for years. Piaf died in 1963, but she lived a full life. She grew up poor on the streets of Paris, roughing it with her best friend Simone, and as if right out of a fairytale she was "discovered" and the rest is history. Most just think of Piaf's success, but senior Charlotte Crockett's focus is on her friendship with Simone.
"[Piaf] was not a very good person always. She became fame and greed obsessed. I explore her dark side and what makes her a complex human being."
Crockett fell in love with Piaf after viewing the movie La Vie en Rose (which she has now claimed to watch five times since). Piaf was on Crockett's brain from the get-go and chose her for her show. Though it seemed like an easy choice, she had second thoughts.
"I did not know if I was going to be able to handle doing a serious show. I did not know if I was going to get to where I needed to be. But everytime I do it I end up crying on stage and being a wreck. It always hits me really hard and that was unexpected," said Crockett on her struggle with the developing her character.
Crockett's statement is that you must fully appreciate a friendship in order to find inner peace. Her abstraction (visual) is a necklace gifted to Piaf by Simone to represent their "unbreakable" friendship.
"It deals with a lot of emotional content. A lot of hard topics. It is not a light show in any sense,"said Crockett as a warning to the viewing audience.
All the stress and hard work seems overwhelming. Ask any of the performers and they will tell you it is extremely. But it is all worth it according to Crockett.
"It is all you. Everything you do is your creation. It is a reflection of yourself. You feel so proud. Like wow I did this whole thing, this is all me."
Devin Felli as Cameron Frye: Cameron Frye's Sick Day Off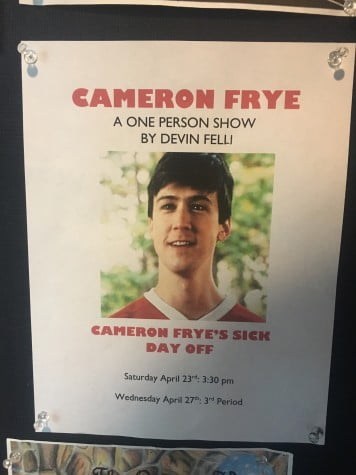 BUELLER! The iconic movie Ferris Bueller's Day Off has been a fan favorite since its release in 1986. While Bueller's witty remarks and schemes caught most people's attention, his best friend Cameron Frye left audiences laughing out loud. Though Frye's impressions are what he is most known for, senior Devin Felli picked up on the relatability of the character for his one person show.
"I chose Cameron because I think he's like every high school student, he's really stressed about college and life and he's just trying to figure out who he really is," said Felli about Frye.
How Felli sees Frye ties into his statement for the show, which is about finding yourself. His abstraction is the red sports car Frye famously smashed on the big screen. Felli described the car as a representation for Frye's father's love.
Felli is really excited about the show for many reasons. He described the show being great for making his own decisions in every aspect. But most importantly, Felli is portraying another person and apparently another side of himself in the process.
"I've never been known as per say a 'theater person,' but I absolutely love it and I think it will be cool for my friends and family to see me in a very different light," said Felli.
Kiana Gryloo as Yuka Shimabara: Noriko's Dinner Table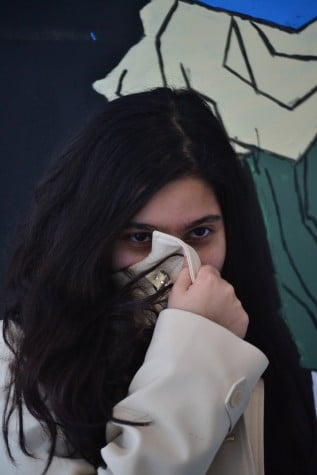 With a story unlike any other, Kiana Gryloo is performing her One Person Show as Yuka Shimabara from the movie Noriko's Dinner Table. At first the story may seem like any other; a young high school girl feels oppressed by her parents and decides to run away from home. Said girl then meets with an internet friend. However, this is where the story changes.
This internet friend is not what you would expect her to be. She is a member of a cult which is part of a larger corporation. This corporation provides services to people who wish to "rent" family members for a short amount of time.
"It's a very complex story," said Gryloo, laughing as she was explaining the organization. "I saw the movie and it has a lot of very abstract concepts that I really liked [and the movie] is so thought provoking, which I really wanted to show in my piece."
Gryloo really admired the character of Shimabara as well. She had to make several hard decisions throughout her journey and was a very independent person.
Writing the script was a challenge for Gryloo.  
"For doing such a complex story in thirty minutes, everyone's saying how are you going to do it? Well I don't know but … it should work out," said Gryloo.
It did work out, and Gryloo gave her performance during the marathon. She feels a lot more confident after her performance and the encouragement that she she received from everyone. A confidence that she returned to her classmates with high praise.
"Seeing my classmates' shows makes me feel so proud of them! They are absolutely inspiring, and everyone is so unique in their own way," said Gryloo, "I think that a lot of people who watch them will feel inspired as well and will want to take up theatre in the future!"
Nicole Redifer as Felicity Smoak: The Heart and Mind of Team Arrow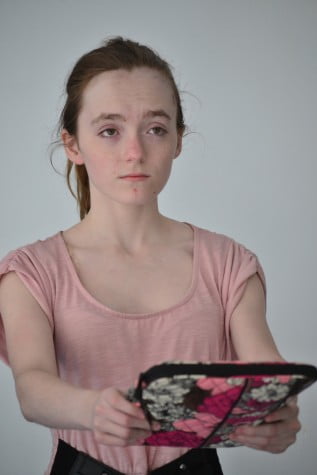 A superhero like no other, Felicity Smoak from the TV show Arrow is played by Nicole Redifer in this year's One Person Shows.
The character starts as an information technology expert at Queen Consolidated, running favors for the CEO Oliver Queen and doing her job. However, circumstances make her a partner of Green Arrow, the superhero alter-ego of Queen.
"I don't want to give away the story but she helps out around the company as well as [helping] the CEO. She's also really good with computers and hacking," said Redifer.
The theatre student choose Smoak because of her love for superheroes. Redifer considered other costumed vigilantes like Batgirl and Supergirl.
"For a while I was really stuck on who I was going to do for my show. But over winter break … I watching Arrow and it sort of just came to me," said Redifer.
It's been a challenging process for her. Redifer had trouble believing in her show and in her writing. However, it has been an incredible experience for her. She has enjoyed watching her classmates and their shows and watching the final product of all of their hard work.
"[When it is over] it will probably be bittersweet because that is the signifier that my time at Yorktown Theatre is over and my time with my classmates is almost over," said Redifer.
However bittersweet, Redifer still gave a fantastic performance with an amazing portrayal of Smoak and her character. She encourages everyone to see the One Person Shows when they can.
Lexie Lounsbury as Judit Polgar: Judit Petit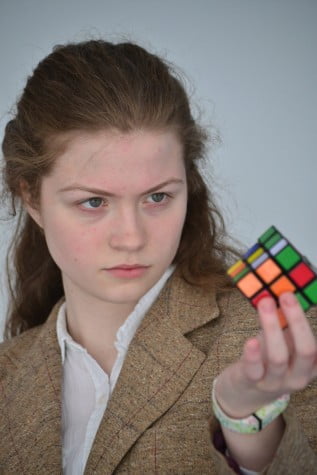 The strongest in a game of strategy and intelligence, Judit Polgar is making an appearance at the One Person Shows this year. Lexie Lounsbury will be performing as a world renowned chess champion in a show that details the life of the prodigy.
"She is the only female to ever beat Gary Kasparov [who] was considered the best chess player in the world," said Lounsbury.
Polgar was always destined for greatness in chess. After all, she and her sisters were part of an educational experiment by their father, Laszlo Polgar. He was trying to prove that children can become prodigies if trained in a specialized subject from an early age. In order to prove this theory, Laszlo decided to train his daughters in chess from an young age.
"I really liked her story. I found it kinda by chance. I was on a wikipedia odyssey on the child prodigies page and I found a little excerpt on her father," said Lounsbury. "All three of his girls became chess superstars and Judit was the most successful of them. "
Lounsbury is proud of how she portrays this story of a child prodigy. According to her (and several other classmates), the climax "kills" and the process has helped her realize her own unique talent.  
"It makes you realize how special you are and how unique you are and what you are capable of doing in just thirty minutes. It's [like] an epiphany," said Lounsbury.
Lounsbury's show itself truly demonstrates her ability. With wonderful timing and rising tension, the performance delivers and leaves you in wonder.
Clifton Kubiak as Sweeney Todd: A "Cutting Edge" Barber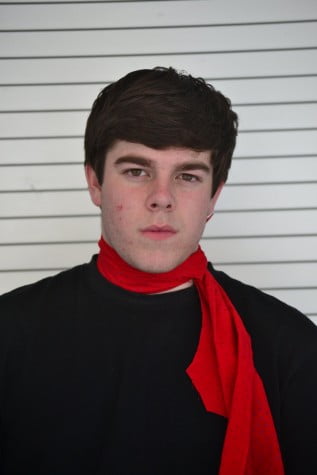 The Demon Barber of Fleet Street is here and ready to give you his side of the story. Clifton Kubiak will be performing a show that will change how you perceive the infamous Sweeney Todd.
"I was always interested in telling the story from the villain's perspective because I've always thought that everyone's actions are justified in some way and we don't really look at it that way, " said Kubiak, "We look at it from a more outside perspective."
During the process of finding the right perspective, Kubiak came to realize that he really liked writing. Creating scripts and stories was not something that he thought that he would enjoy doing so it has been an eye-opening experience.
"I am very proud of how conversational I've been able to make the dialogue. Whereas if you asked me two years ago then it would have been amateuresque," said Kubiak.
Story writing is a very fickle process. Making sure that the story makes sense to the audience takes a lot of work on the part of the writer. The writer may already have this idea in his or her head and know all of the twists and turns and explanations. However, the audience is going into the story blind and it can be difficult to understand what is going on.
Kubiak says that although tough, the process is ultimately rewarding.
"People don't understand that we've been working on this for four years and this is a culmination of everything we've learned … It's the product of the blood, sweat and tears," said Kubiak.    
With engaging dialogue and a story that tugs at your heartstrings, Sweeney Todd has never been seen so humane. From singing to his young charge and an extremely emotional performance, Kubiak will capture your attention and emotions with his performance.
Katie Coble as Leslie Knope: Small Town, Big Heart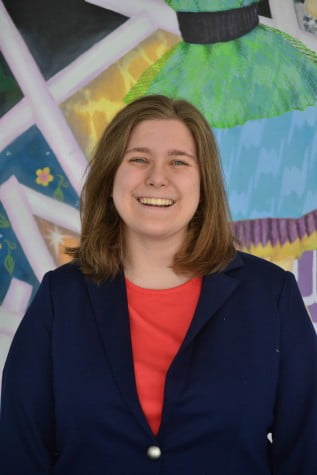 A familiar, funny face is going to be at the One Person Shows this year. Katie Coble will be playing a beloved character, Leslie Knope, from hit show Parks and Recreation. Thirty-five years old, Knope is the deputy director of her local Midwestern Parks and Recreation Department and works very very hard to improve her community.
"I wanted to do a character that was funny," said Coble. "And I wanted my show to be about friendship."
Finding that perfect match was a long process. Coble bounced around a couple of characters and finally choose Knope after a suggestion from a friend.
"My favorite part [of my show] is the humor. It's comedic and I am proud of the jokes," said Coble.
However, characterization has been the most difficult part of the process. It has also been difficult to find the best way to act when the audience is all around you. Yet, this hardly dampens Coble's attitude towards the process.
"I feel so close to my class and I feel like we are all lifting each other up. And it's such a community affair. It's a One Person Show but really it's a 25 person show. I feel so supported," said Coble.
The support carried Coble a long way, and she gave a touching performance that really embodied the idea of a "small town, big heart."
Sam Barrett as Ebenezer Scrooge: Error of Your Ways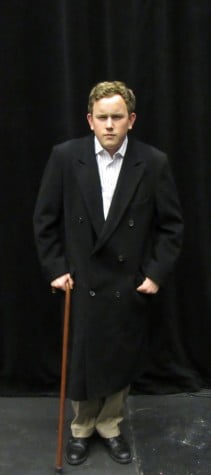 In his show- Errors of Your Ways, senior Sam Barrett centers his portrayal of the miserly Ebenezer Scrooge from Charles Dickens A Christmas Carol on the idea that "it is never too late to redefine yourself."
On Christmas Eve, the lonesome grouch is visited by three ghosts who all try to get encourage Scrooge to change his ways. Since A Christmas Carol is such a widely known story, Barrett found the most difficult part of creating his show to be writing a script that stayed faithful to the original novel but also contained his own personal flair. After four years of theatre class, Barrett has brought all of his acquired skills into his show––Barrett put six characters in his show. While it is challenging to portray that many different people, Barrett feels confident in his ability to change his tone and physicalities to transition and differentiate between characters easily.
Barrett feels that he can relate to his character because like Ebenezer, and like all of us, we can always redefine ourselves. 
Garret Neal as Lee Everett: A New Day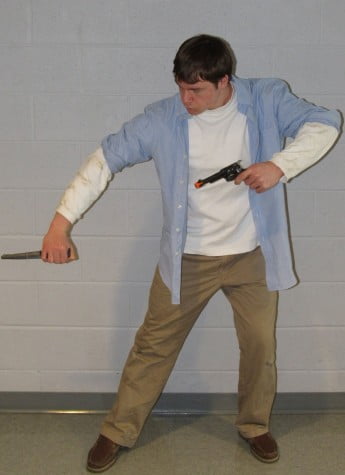 Garret Neal chose to tell the story of the main character from a Walking Dead-inspired video game.  Pre-zombie apocalypse, Neal's character, Leigh Everett made many mistakes in life. Once the apocalypse hits, Everett tries to correct his errors and remedy his relationship with his young daughter, Clementine, all while trying to fight off zombies and for his life.
Neal chose this character because he came from one of his favorite video games and because he knew that with so little known about the character, he had a lot of freedom in creating his show. Since Neal's show is based off a videogame where the player choses the decisions of the animated character on screen, Neal has found it easy to relate to his version of Leigh.
The story Neal wants to tell focuses around the idea that "you have to do whatever it takes to protect the ones you love."
Neal's favorite part of the whole process has been getting even closer with his peers in theatre lV. While Neal will be the only one on stage, he has a lot of support from classmates in theatre and friends and family outside of it. Neal is excited for all of his hard work for the past four years to finally pay off, but  it is a bittersweet feeling knowing that it will soon be over. On April 26th see Garret Neal bring his favorite video game character from the screen to the Black Box Theatre in an action packed, heart wrenching show.
Nataly Gianuca as Rosie the Riveter: I Can Do IT!
Nataly Gianuca decided to portray World War II icon Rosie the Riveter. In Gianluca's thirty minute show, she tells the story of a girl who, with the help of a friend, learns to break out on her own from her restrictive father.
Gianuca's show focuses on the idea that "only you know what you truly want."
Because there is not much known about Rosie the Riveter, Gianuca had the freedom to largely create her own story, something that attracted Gianuca to Rosie's character. Gianuca has greatly enjoyed writing the script for her show. Gianuca has found it most challenging to act as multiple people and tell act out a story with only one person. However, She feels confident in the fact that everything she has learned in theatre the past three years of theatre has prepared her to create her One Person Show. "It's a lot harder than it looks…The benefit of being the only one on stage is that you have the power to do what you want but it is really difficult in a show to not have anyone else on stage to rely on. If you mess up, it's on you." It is important to realize when seeing these shows how much work, practice and focus has gone into each and every one.
Reiss Gidner as Medusa: To Walk Down a Stone Path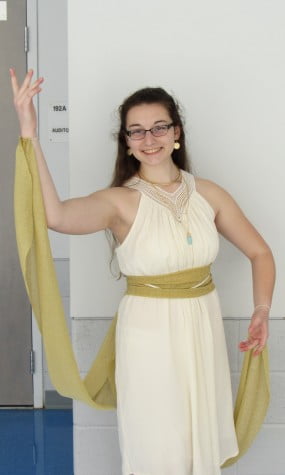 In her One Person Show, Reis Gidner portrays the infamous mythological villain Medusa. However, Reis humanizes her and focuses her show around the concept that "forgiveness can help you come to terms with your circumstances."
Gidner plans to show her audience how Medusa, a regular girl during ancient Grecian times working for goddess Athena, became ~Medusa~, the woman who can turn people into stone.
Since her show is based on an ancient myth and the "true" story of Medusa is unclear,  Gidner has the power to create whatever she wants from it. While many depictions of Medusa portray her with evil snakes for hair, Gidner wants to emphasize that that is not something you will see in her show. Gidner chose to focus more on her character's ability to turn foes into rock with her stone-cold glare.
Gidner explained how she has been working on this piece since November but, she has been excited about it since her freshman year when she started in Theatre l. Since the 9th grade, Medusa was always one of Gardner's top choices for her show. While she will be the only one on stage, Gidner has felt an immense amount of support from her classmates and friends and family outside of school.
"It's really like a twenty-five person show, I'm just the one performing it," Gidner said.
Shannon Redifer as Violet Baudelaire: The Fatal Fire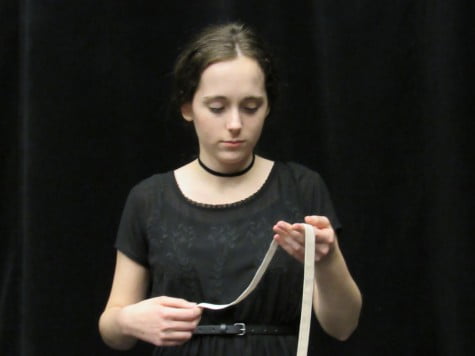 Shannon Redifer chose to perform the story of Violet Baudelaire, her favorite character from one of her most loved book series growing up, A Series of Unfortunate Events. In her piece, Violet and her two siblings' parents have died in a tragic house fire, forcing them to move in with Count Olaff, their strange, distant relative who makes their lives miserable. Redifer chose to center her show around the idea that "family gives you the resilience to push through hardship." Redifer chose this statement because she recently found herself fascinated with learning about how people deal with stress and trauma. Redifer chose the character of Violet because she admired her strength and ability to lead her two siblings during uneasy times.
Redifer loved getting to revisit her favorite series when creating her piece. While it is exciting to finally reach what she's been working for for so long, Redifer recognizes that it is a bittersweet feeling because she knows soon the tight-knit family that is her theatre classmates will all go in different directions.
"My theatre class has affected my show monumentally," said Redifer.
Chris Gaines as Westley: Something to Live For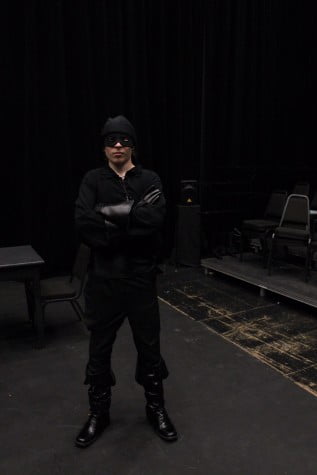 For his One Person Show, Chris Gaines chose to tell the exciting and touching story of Westley from The Princess Bride, a brave, multi-talented man who goes on a journey to seek love and wealth.
When deciding on possible characters, Gaines decided upon Westley and it turned out magnificently. Westley has impacted Gaines life, so it was fitting for Gaines to perform Westley's story.
"Ever since I was a kid, I've watched the Princess Bride. I have tried to shape my life after Westley. I've tried to be humble towards all people, respectful to everyone and I have dedicated to doing right by the people in my life that have helped me get to where I am," said Gaines.
Gaines has been doing performing arts for four years, or so he likes to say. He actually did not do theatre his freshman year, but would come to theatre classes during his lunch and participate. The passion he has for performing will certainly show through in his show. After hours of rehearsal, and maybe some procrastination, the show is coming together and without a doubt it will be an incredible performance.
If people take away anything from his show, he hopes that is that people understand what it means to truly love something and try to apply it to their everyday lives.
Above all, this experience has taught gain one of the most valuable lessons.
"No one can make something special except yourself. What you put into it is what you'll receive from it, said Gaines.
Linden Huffman as Ryan White: AIDS is Not The End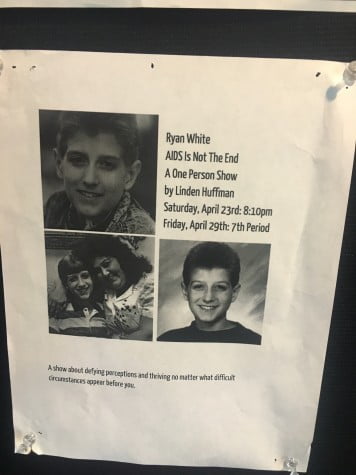 Linden Huffman was determined to do his character justice in his One Person Show. The choice was a simple one for Huffman: Ryan White, a teenager from Indiana who courageously fought AIDS-related discrimination and helped educate the nation about his disease.
After hearing about White in his Government class, Huffman was inspired by his bravery of fighting something so awful. Huffman does not just want people to learn the story of White, he wants them to fully understand what discrimination can do to someone.
"I want people to learn how words affect someone else, but also how you can stand up for what you believe in no matter what challenges you may face," said Gaines.
Huffman's choice of character for his show has taught him more about himself than he could ever imagine. He admires White's ability to stay strong throughout all of his challenges and has truly learned how discrimination affects people.
After 12 years of performing, Huffman has learned a lot about himself and put on an excellent show on a heartbreaking story.
Will Donahoe as Dr. Gregory House: Everybody Lies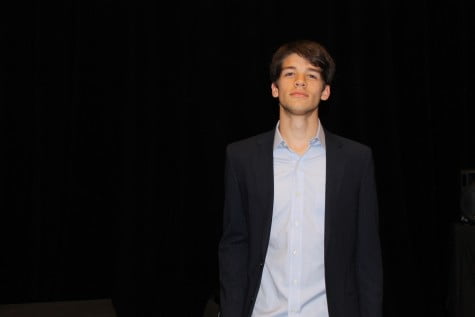 For his One Person Show, Will Donahoe chose Dr. Gregory House from the medical drama series, House M.D. Donahoe had always been a fan of this character, but never imagined he would play him for his show. At the beginning of this year, however, Donohoe realized that the depth of House's character would translate well into a One Person Show. Though the two are almost complete opposites, House being very extreme and Donahoe being very mild-mannered, Donahoe has been able to learn a great deal about different people and personality types. This understanding has become a very large part of Donahoe's show and he hopes that people were able to learn the same thing from his show.
"I hope people see that there are two sides to every person, despite their outward mannerisms, they all have a side that is contrasting to that," said Donahoe.
This entire process has been life changing for Donohoe. Being able to see the extent in which he has grown has allowed him to grow so much since his freshman year in Theatre I.
"The thought of doing a show on my one was very scary as a freshman but at the same time motivating. The whole experience of being able to put this together and actually perform it has been amazing," said Donahoe.
Jason Mitchell as Robby Turner: Hope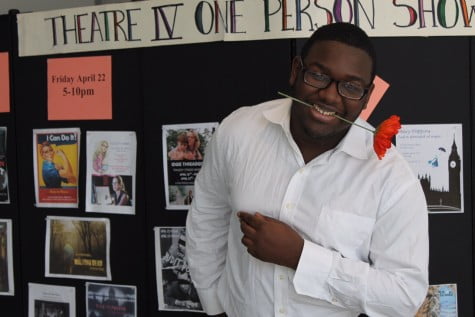 Senior Jason Mitchell chose to play the love-struck Robby Turner from Atonement by Ian McEwan. After reading the book his sophomore year, Mitchell was thoroughly impressed by the plot line of the story, knowing it would make a compelling One Person Show. When the time of the decision of who to perform, Turner was always the first thing that came to his mind.
Over the past year, Mitchell put in countless hours on perfecting his show. When looking back on the experience, Mitchell feels certain in his choice of character and admires his ability to overcome challenges.
"I admire my character's tenacity, he was going through struggles with himself, society and other relationships. He set to overcome them because he had things that he cared for," said Mitchell.
Mitchell has been doing theatre since middle school and has loved every moment of it.
"It just fit with me. It wasn't something I was ever unsure of, theatre was just what I wanted to do. The environment is nice, the people are nice, learning about theatre and how to apply it life is awesome. Theatre always struck me as interesting, so I just stuck with it," said Mitchell.
Although it has completely shaped his high school career, Mitchell is not looking to pursue theatre in the future. The Yorktown Theatre program has given him the opportunity to know what he is passionate about, but now he feels it is time to find other areas that give him the same sense of urgency. More than anything, theatre has taught Mitchell some incredible life lessons and he hopes he can pass those lessons onto people watching his One Person Show.
"I want people to know that if you really care about something, you have to go out of your way to see it happen. Let what you care about be your motivation to get through any tough times," said Mitchell.
Jenisha Chudal as Laila: A Girl Who Rebelled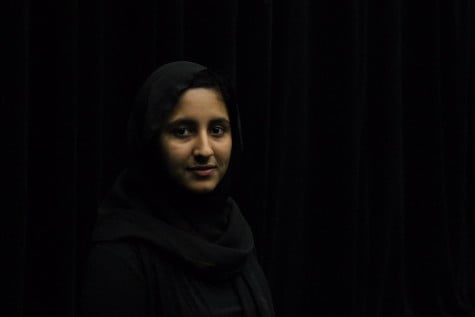 For her One Person Show, Jenisha Chudal is playing the character of Laila from A Thousand Splendid Suns, the intelligent and driven teenage girl from Pakistan.
"My character was raised in a very conservative society, but she's very open minded and always does things that she wants to do, and will fight for it. I'm a lot like that too. If I believe in something, I will go after it and fight for it," said Chudall.
Chudall was determined to not only teach her audience about her character, but also Middle Eastern culture as a whole. Her passion for making the show the best it can be will certainly show through in her performance.
"I hope people realize that we are very lucky to live where we live. There are countries in the world where people are still fighting for their rights. We should take the opportunity to learn about what is happening in these countries to create a change," said Chudall.
Choosing a character that had so much depth was certainly a challenging task, however, Chudall has not ever doubted her choice of character. The struggles her character faced have allowed her to grow more as a person and become more confident in her own beliefs.
"I love my character's personality and how open minded she is, but she is also very fearful. If I were to live her life, I would definitely make sure to fight to the end," said Chudall.
Chudall's performance entails both joy and heartbreak, and it came together to be a truly excellent performance.