Houdini in the Halls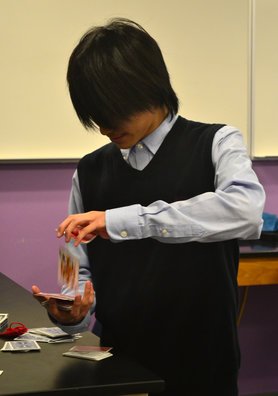 Over the years at our school, great talent has come and gone with the students who made our halls so memorable. Singers, dancers, even a couple impressionists all showed us their talent and made us clap in amazement. There is now a new act in our halls, and his name is Benjamin Tran.
It is likely many know him from one of his major stints as magician of the Dailies, where on one occasion he even made a pack of cards disappear. As astonishing as that feat was, he has a lot more tricks up his sleeves and is learning more.
  "I'm learning from a friend named Mark Carrion. He is part of the IBM which stands for International Brotherhood of Magicians," said Tran. "It's the largest organization of magicians in the world. … He belongs to a group called Ring 50 and he teaches me all of the stuff I know."
However, Carrion is not the start of Tran's magician career. He has known about magic since he was a little kid, even though he was only a spectator for most of his life. During this time, Tran figured out the secrets of magic and how to do the tricks. It was only a year ago that he decided to practice magic himself, for rather selfless reasons.
"Since I usually saw lots of my friends and family members sad or not too happy, I started doing these things and it made them happy," said Tran.
His favorite trick to do is pocket money. During this trick, Tran pulls out a red velvet bag and inside the bag is five coins. These coins are from around the world, varying in size and shape. The person who is participating in the trick will pocket the money, and Tran will correctly guess the coins that they pull out of their pocket. There is a surprise at the end, and as someone who has witnessed the trick, this reporter can say that it is amazing.
"It is actually a very high risk trick that not a lot of people realize it is. So everytime I perform it it scares me to death," said Tran as he described the trick.
According to Tran, the success of the trick depends on a singular psychological factor (that he chose not to share) that a magician has to be able to do.
Pocket money is not the only trip that Tran is working on. He is currently perfecting a trick called "evolve." This is when Tran takes a card and then changes it into a different card. It is soon to air on the Dailies––so watch out for this one.
If others want to take up magic themselves, then Tran has a few words of advice.
"[M]agic, as it turns out when I learned it, is a very delicate thing. It can make someone happy," said Tran, "but then I realized when I let people know the secret of something they aren't so happy as before––they are disappointed."