Project Mercury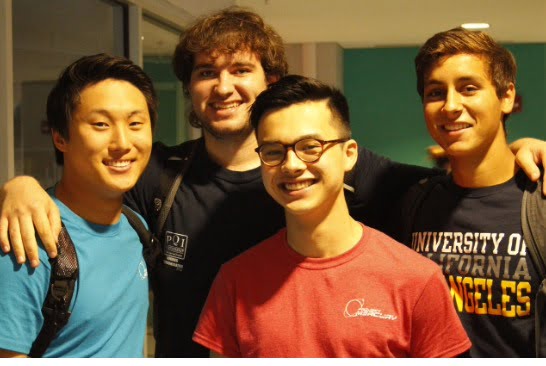 The school year is winding down, and eventually everyone can look forward to the summer days that are free of work and thinking. However, this is not the case for graduating seniors Ji Lee and Brandon Peck and rising senior Evan Cater. In July, they could be going to Seattle for the Microsoft Imagine Cup World Finals, an opportunity they earned by coming in first place in the World Citizenship category at the Imagine Cup US National Finals in San Francisco. Their winning project is named Project Mercury.
Project Mercury uses Microsoft Kinect, an infrared sensor and camera, to make a medical alert system that does not require any intermediary device. Connected to the interface of the person's home, if the sensors detect a person falling, it would automatically ask if the person was okay. Since the system is also connected to a microphone, the person then can respond with a "yes" or "no." If the person responds affirmatively "no," or if there is no response within eight seconds, the system would then immediately send a text to an emergency contact or an urgent medical assistance and say that help is on the way. The text would comprise of a photo of the person on the ground and message saying that this person was hurt.
"It's built for gaming, like you wave at it and you can control it…. But we are packaging it so that it's mounted in your room, its interfaced with your computer, there are multiple [devices] in your house and it has full coverage of your house. So if you fall anywhere in your house, it can work." said Cater.
Amazing as the project is, it faced some serious competition from others in the same category, ranging from an app for abuse victims to a bioinformatics workbench that allow a person to load gene sequences and do analysis. Also, even though the competition is for students, they were the only all-high school student team.
The future of  Project Mercury is in the works now.
"We are trying to continue prototyping it and we are still in the competition as of now so we are going to keep on improving the software and maybe even in the future develop our own technology and market it," said Peck.
Project Mercury is not the only project that the three have worked on. Peck has designed three published apps and Lee has three patents on various projects. Cater has developed an algorithm that identifies different types of plankton– a discovery he presented at the International Science and Engineering Fair in Pittsburgh. All three have worked on various coding projects individually.
"As a computer programmer, you are constantly doing projects" said Peck.
All three students believes coding is in their future. For Lee and Peck, these projects will take off in earnest in college. Lee will be attending the Massachusetts Institute of Technology (MIT) and Peck will be going to Stanford University. Cater will become president of the Yorktown Coding Club during his senior year.