Lee-Harrison Shopping Center's Sweet Tooth Pulled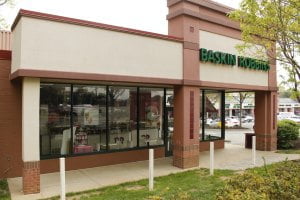 Students with a sweet tooth will have to sate their cravings somewhere else this spring. This April, the Lee-Harrison Shopping Center has lost two of its sugariest spots. On April 17, Kay LoMedico, the owner of the beloved Mother's Macaroons Gourmet Bakery, hung up her apron and closed up shop for good. Only a few days later, on April 20, it was officially announced that the popular ice cream shop, Baskin Robbins, was closed for good as well.
Since she was in her thirties, LoMedico ran Mother's Macaroons as gourmet bakery that specialized in various custom cookies and other sweets for 28 years. Unfortunately, the past year was very rough for her with the death of her husband, Jim LoMedico, and the loss of three longtime employees. Eventually LoMedico decided to close her bakery shop to work full time at her late husband's business, the nearby Sunoco gas station.
Baskin Robbins closed on a different note than the bakery. On March 26, the ice cream shop was given eviction papers from the Lee-Harrison Shopping Center landlord. This caused an abrupt closure of the business without much notice or announcement. The location has been removed from the Baskin Robbins official corporate website and Lee-Harrison Shopping Center's website lists the space as available.
The general consensus among students is that it is a sad sight to see such well known businesses close.
"I know that Baskin Robbins has a lot of other locations…but Mother's Macaroons was a community store, and there was only one of them," said freshman Emma Griffin.
Griffin is a frequent visitor of the Lee-Harrison Shopping Center, going once or twice a week with friends and family.
"I do hope that they would come back because Baskin Robbins attracted a lot of more people to Harrison Center and Mother's Macaroons was apparently a really good bakery and a lot of people liked it," said Griffin.
It has come into question whether or not the loss of the two establishments will affect the business that comes through the area. If there are no sweets to attract the kids from the local schools, then where will the money come from? However, there seems to be little to worry about when it comes to keeping students as frequent customers. Students have mentioned other businesses in Lee-Harrison Shopping Center that will keep them coming back such as Harris Teeter, Chesapeake Bagel Bakery and, of course, Starbucks.
"I probably will continue to go [to Lee-Harrison Shopping Center]… however, I will miss Mother's Macaroons a lot," said sophomore Madeline Fitrell, whose mother was a frequent customer of the former bakery.
Mother's Macaroons and Baskin Robbins held special places in our hearts, but there is no need for despair. LoMedico may have closed her shop, but she said that she has not given up baking for good. She said in an interview with ARLnow.com that she "may be back." Baskin Robbins also has numerous locations, such as their Lee Highway and W Broad Street stores, where one can still buy all the cotton candy ice cream one desires.