Shanahan Screws Up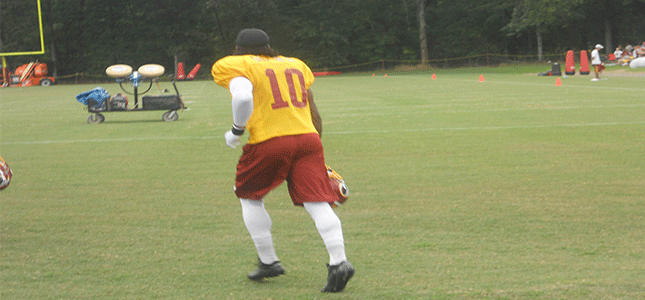 By Nick Jennings
Sentry Staff Reporter
It has been a few weeks since the Redskins season came to a disappointing close with a loss against the Seahawks in the wild card round of the NFL playoffs. If you saw the game and/or if you have a twitter you would know that the team's superstar rookie quarterback Robert Griffin III tore his ACL, LCL and meniscus all in one play. On a second and long with time running out in the fourth quarter and down by seven, RGIII tried to recover a botched snap as his knee twisted and he fell in agonizing pain. Everyone in the stadium, heck, even every bar in the D.C. area, watched in stunned silence as their team's future lay on FedEx field. He had to leave the game afterwards and obviously could not come back out. Long before this play it was obvious for all to see that Robert Griffin should have come out before this even happened. Mike Shanahan, the Redskins' head coach and two time Super Bowl champion, should have known better. On a first and goal late in the first quarter, Griffin rolled out and scrambled to the sideline after he planted awkwardly and flung the ball to Pierre Garcon for an incomplete pass. His knee buckled and his helmet came off as he rolled on the ground. Eventually, he got up and limped back to the huddle. Right after the injury, he threw the touchdown pass to extend the lead to 14, and everything pointed to the Redskins going onto play in the division championship. But we all know what happened next. The Heisman Trophy winner and second overall pick struggled to get any offense going for the next two and a half quarters. After those two touchdowns, he had a whopping total of 27 yards of total offense including a nine yard run that made him look more like 36-year-old Donovan McNabb than the 22-year-old Robert Griffin III.
Since the game, some sports analysts have stated that Coach Shanahan should have pulled RGIII while others said that the critics are "Monday morning quarterbacks" who do not understand the competitive sports ethos. I am no Monday morning quarterback because it was plainly evident on Sunday that RGIII should have come out, giving the chance to a completely capable backup in Kirk Cousins. Cousins had already won two games and is paid to be available in the unfortunate circumstance when Griffin cannot perform. This was clearly such a day. Indeed, an argument can be made that RGIII's performance could have contributed to the loss. To be clear though, whether the Redskins won or lost is irrelevant. Their decision was a loser not because they lost but because they may have lost their future.
The signs were there. Shanahan just refused to see them. He was too afraid of how his quarterback would react if he pulled him. The coach needs to be in control or the team will not function. Griffin is a competitor but Shanahan needed to see what was happening and protect his best player from himself. Now all the Redskins have to show for their 2012 season is a playoff loss and a quarterback down.
Fortunately for Redskins fans, it seems as if there is plenty of optimism surrounding the surgery and his ongoing recovery. Griffin is an extremely motivated individual and all signs point to him being back by the start of the 2013 NFL season. What needs to happen, though, is a change in the offense. Despite all of the success coming from the read option this past season, Griffin needs to become more of a pocket passer. Washington has become too invested in him to have the risk of another injury like the one against the Seahawks. Not only have they made him their franchise quarterback but they gave up two first round picks in order to acquire him. This team needs him to be successful. He does not have to rely on his legs to make plays; he has a proven arm and can throw the ball around any defense.
Last year, Adrian Peterson tore his ACL, much like Griffin, at the end of the season against none other than the Washington Redskins. He proved that a serious knee injury is far from a death sentence and in fact, he barely missed the single season rushing record by 9 yards. Robert Griffin III, like Peterson, is a great athlete and competitor. He will be a great quarterback in the NFL for a long time if the offense changes and if we get somewhat lucky in the recovery process. Maybe we should call AP for his prescription for recovery. In the meantime, let us stop making mindless decisions about playing hurt superstars.