Strawberry-Buttermilk Sherbet
Compiled By Sophia Currie
Sentry Staff Reporter
Who doesn't like sherbert? This refreshing spring treat is sure to make anybody's taste buds dance and sing under the sun.
Ingredients
2 cups fresh strawberries*
2 cups buttermilk
1 cup sugar
1 teaspoon vanilla extract
Garnish: fresh mint sprigs
Preparation:
1. Process strawberries in a food processor or blender 30 seconds or until smooth, stopping to scrape down sides. Pour strawberry puree through a fine wire-mesh strainer into a large bowl, pressing with back of a spoon. Discard solids. Add buttermilk, sugar, and vanilla to puree; stir until well blended. Cover and chill 1 hour.
2. Pour strawberry mixture into freezer container of a 1 1/2-qt. electric ice-cream maker, and freeze according to manufacturer's instructions. (Instructions and times may vary.) Garnish, if desired.
*1 (16-oz.) package frozen strawberries, thawed, may be substituted.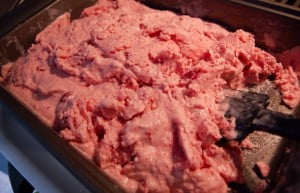 Recipe originally taken from myrecipes.com