Row (Your Boat) to States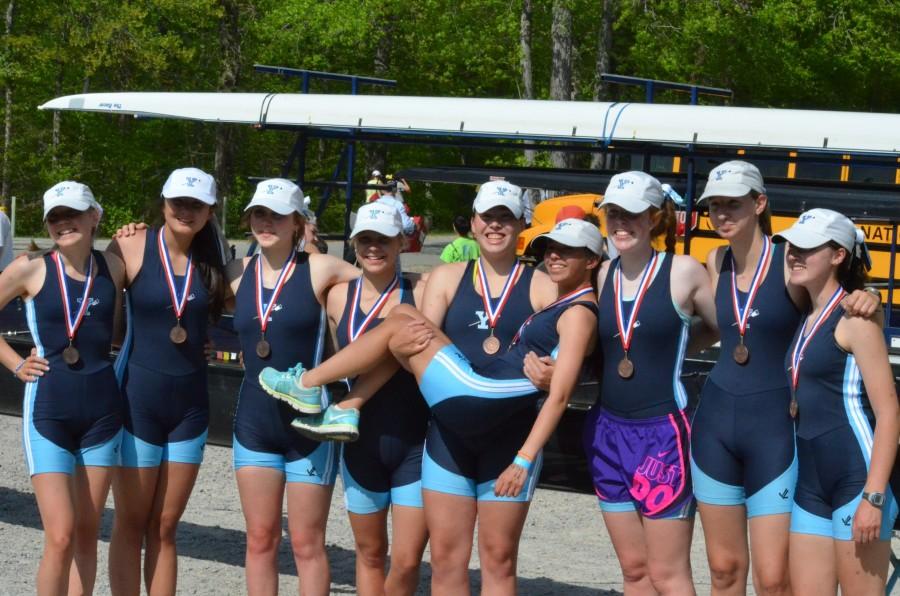 By: Jackson Cummings
Sentry Staff Reporter
The crew team traveled to the Occoquan River for their state regatta. On Saturday, May 3, the lower boats had their state competition. On Saturday, May 10, the upper boats participated in their competition.
All of the boats participated in at least one heat of a race of 1500 meters. Depending on how boats placed in their heat, they could progress into the finals. Only three boats won their state regatta and are moving on to the national regatta.
Lower Boats
One of the freshman boy boats placed seventh of the 17 total teams. This boat consisted of Alex Langsam, Noah Tanenbaum, Jamie Ehlers, Mark Love, Nick Alpi, Collin Dorsey, Charlie Scarborough and Matt Sullivan.
"Maybe next year, we will get a more pleasing result. Right now, we are focusing on training for our next and final regatta of the season," said Langsam.
Unfortunately, the other freshman boy boat did not move onto the finals. They placed fourth in their heat, which caused them to be eliminated. This boat included Steven Stavrou, Peter Carrick,  Aiden Lund, Thomas Hassett, Patrick Salsburg, Ryan Bloom, Peter Funk, Matteo Dristas and James Johnson. All of these Patriots are freshman except for Stavrou, who is a junior, and Johnson, who is a.
This year, only one of the freshman girls boats medaled. In fact, this boat was the only boat of all of the Yorktown freshman teams to medal and is moving on to the national regatta.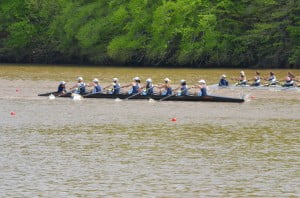 Amelia Lowe, one member of the medaling boat, talked about her experience at the regatta.
"It was really fun. We placed first in our heat and third in the finals. We're going to nationals." said Lowe.
The other members of Lowe's boat were Niki Hamann, Chandler Sensibaugh, Libby Sheehan, Rachael Cohen, Jessica Williams, Hannah Fussell , Isabel Rogers and Ellie Styles. The second freshman boat consisted of Diana Lehane, Sophia Anderson, Kelly Kilby, Maddie Dettling, Lillie Cooke, Kate Burkholder, Madeleine Fitrell, Camryn Gulbransen and Julie Gilbertson. The third boat included Sophia Scott, Elaine Tsogtbayar, Tatiana Lanteigne, Lucy Khlopin and Phoebe Brueger.
Upper Boats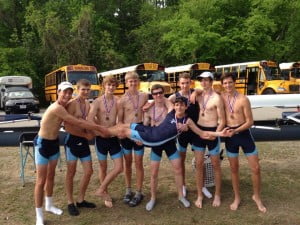 Two boy boats this year are moving on to nationals. The Junior 8 is one of the boats that is moving onto nationals because they placed third out of twelve boats. This boat consisted of Jake Silbermann, Ben McKelvain, Stefano Lewin, Lee Muszynski, Ian Hardman, Gus Schneider, Alek Blumberg, Alex Noring and Mason Pollock. There are four sophomores on the Junior 8 boat are Blumberg, Pollock, Muszynski and McKelvain.  The rest of the members areJunior Gus Schneider (of the Junior 8 boat) shared his thoughts about crew.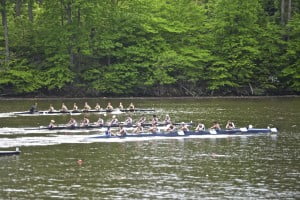 "It's really helpful to get into colleges and gets you in amazing shape" said Schneider.
The other boat, the Lightweight 4, placed second out of five boats. This boat included Henry Burneson, Andrew Oltorik, Kevin Salmon, Johannes Johnson and Drew Hudspeth.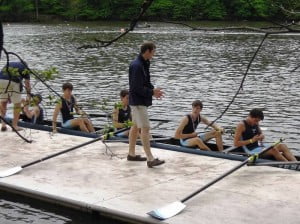 The other two boats, 1V and 2V, are not going onto the national regatta. The 1V boat placed ninth out of twelve teams. The 2V placed seventh in their competition. The 1V boat consisted of  Timothy Wamsted,  Brandon Peck, James Mohr, Luke Burneson, Julian Moss, Nat Hill, Hawkins Clay, Peter Manville and Sam Holmes while the 2V boat included Nick Goryachev, Bradley Martin, Joseph Schanuel, Fox Nelson, Pierce Jennings, Ander Fricano, Chris Oltorik, Nick Francis and Thomas O'Shaughnessy.
No varsity girl boats are going onto the national event. The 1V girls boat only went on to petit finals and placed third while the 2V girls went to the grand finals and placed fifth. The 3V boat is not going onto the national regatta.
The 1V boat consisted of Emily Auer, Jane Townshend, Olivia Blust, Lauren Richards, Cailyn Hudspeth, Margaret Saunders, Taylor Bischot, Kalina Newman and Susanna Kelley.
Junior Kalina Newman of the 1V boat shared her thoughts about crew.
"The feeling that I get when I'm on the water and the strength it takes is pretty powerful. I enjoy it a lot," said Newman.
The 2V boat included Madison Gonzalez, Catherine Hall, Katherine Lerner, Natalie Reich, Haley Hart, Madeline Smerchansky, Grace Maurer, Annalisa Scott and Darci Law. The 3V boat consisted of Elana Fillipos, Annie Schiffer, Maddie Donely, Maddie Harple, Haley Grove, Shiane Mann, Andri Moloney-Kitts, Amy Butler and Lana Schlesinger.
While only three boats are headed to nationals, it is clear that the crew team is a hardworking and dedicated team. Although many seniors are going to graduate and leave behind their spot on their boats, many freshman and eighth graders will join the team. Hopefully, next year, more boats will move onto the national regatta.
Featured Image Courtesy of Barney Cohen