Better-Than-Thin-Mints St. Patrick's Day Brownies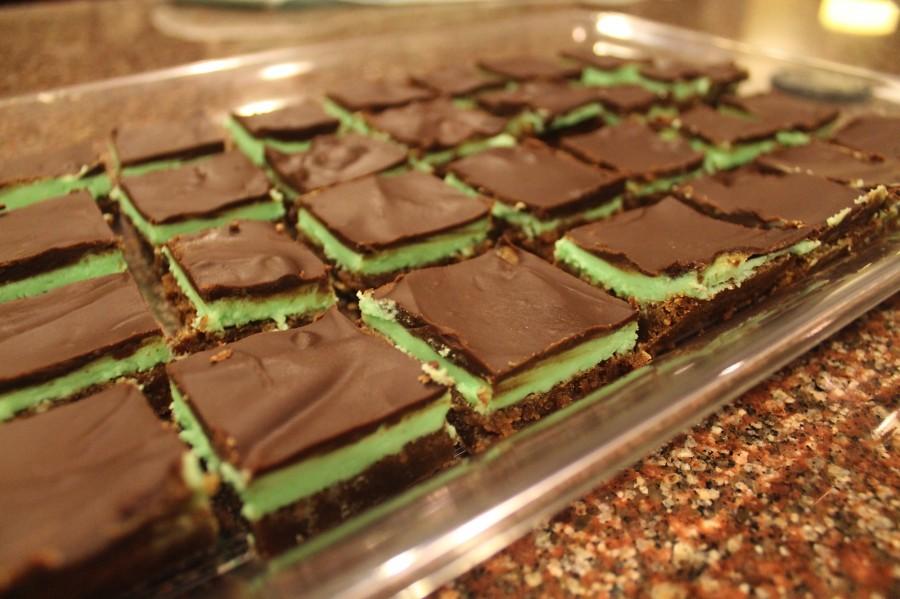 Compiled by: Natalie Zur
Sentry Staff Reporter
Other desserts are put to shame by these delicious brownies with a mint frosting filling and chocolate topping.  Make them for a Welcome Spring party or any other time you are craving a rich mint and chocolate experience.  Whether they are served warm or cold, with ice cream or a glass of milk, this easy recipe is sure to please.
Ingredients for the "cake" portion:
-4 (1 ounce) squares of unsweetened chocolate
-1 cup of margarine or butter, softened
-2 cups of white sugar
-3 eggs
-2 ½ teaspoons of vanilla extract
-1 cup of all purpose flour
Ingredients for the mint frosting center:
-½ cup of butter, softened
-4 cups of confectioners sugar
-2 tablespoons milk (or as needed)
-1 ½ teaspoons peppermint extract
-6 drops green food coloring
Ingredients for the chocolate topping:
-1 ⅓ cups semisweet chocolate chips
-6 teaspoons butter
-1 tablespoon vanilla extract
Steps:
1.  Preheat the oven to 350 degrees F.  Grease the baking dish, a 9×13 inch dish is preferable.
2.  To make the bottom layer, first melt in the microwave the unsweetened chocolate in a bowl on a low power to prevent burning.  Stir the chocolate until smooth and allow it to cool slightly.
3.  Pour the chocolate into a large bowl.  Use a spoon to mix the margarine (or butter) and sugar until smooth.
4.  Beat in the eggs one at a time using an electric mixer, then stir in the vanilla extract.
5.  Mix in the flour by hand until well blended.  Pour the batter into the baking dish.
6.  Bake the brownies for 20-25 minutes, or until the surface appears dry and the sides are beginning to separate from the edges of the pan.  Once taken out of the oven, the brownies may look more like cake (which is normal).  Allow the brownies to cool completely.
7.  For the middle frosting layer, beat ½ cup butter with confectioner's sugar in a large bowl using an electric mixer.  Add milk as needed to get to a spreadable consistency.
8.  Stir the peppermint extract and green food coloring into the frosting.
9.  After the brownies are fully cooled, spread the frosting.  Then, refrigerate for 30 minutes.
10.  To make the chocolate coating, melt the chocolate chips over low heat on the stove.
11.  When the chocolate is half melted, add the butter.  Turn off the heat and add vanilla.
12.  Stir the chocolate in the pot for about 2 minutes with a spoon until it starts to shine.
13.  Pour the melted chocolate over the chilled brownies and spread quickly to cover the surface.
14.  Cool again until firm (for at least 10 minutes).
ENJOY!
— Edited recipe originally taken from TasteofHome.com
Featured image by Natalie Zur