Rivalry Week
By: JJ Martin
Sentry Staff Reporter
As winter break came to a close , the intense rivalry between Yorktown and Washington and Lee High School just started  warming up. Last year, the swim team beat W-L by one point and the basketball team won by two. This year, the two teams put everything on the line to win.
On January 10 , the swim and dive team visited the W-L pool for a huge showdown. The W-L boys team was expected to win and their girls team was supposed to win by a slim margin, but the boys won 179-136  and the girls dominated with a score of 184-131.With the win, the swim and dive team improved to 6-0. The boys dive team was led by sophomore Jacob Kreider who placed first, junior Hunter Simmons followed him in second, and senior Drew Hindman who placed third. The girls dive team was led by senior Elena Bavolack who finished first, junior Mariah Bowman placed second, and junior Sydney Stocks who finished third.
"The dive boys and girls stepped up big to help the team get to a good start," said Dive Coach Bobby Meeks.
The swim team had some of their fastest times according to swim coach and physical education teacher Clair Dicesare. The boys relays finished first in the 200 yard medley, 200 yard freestyle and the 400 yard freestyle. The individual winners were sophomore Jacob Larsen in the 200 yard individual medley, junior Mike Poppalardo in the 50 yard free, and sophomore Brady Almand in the 100 yard breast. The girls relays won the 200 medley and the 200 free. Individual winners were sophomore Katherine Lundy in the 200 IM,  sophomore Suzanne Dolan in the 50 free (who also qualified for states in the 100 free) and junior Lauren Allard in the 100 breast. The swim and dive teams race against JEB Stuart on January 17.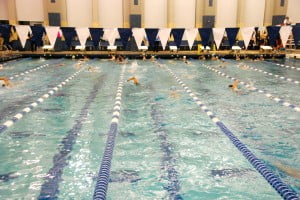 On the same day, the boys varsity basketball team, coached by Rich Avila, played W-L at home and won. The score was 60-52. At the end of the first quarter, W-L was up by two.
"The score was really close throughout the game," junior Matt Lawrence said.
After the first quarter and throughout the rest of the game, the team came back with support from the bench. Senior Zachary  Esherick led the Patriots with 13 points and was followed by junior Edmund Pendleton with 12 points. With the win, the boys improved to 7-5 and a big moral victory over their downtown rival. The basketball team plays JEB Stuart on January 17.