The Storri of Torri: A Yorktown Olympian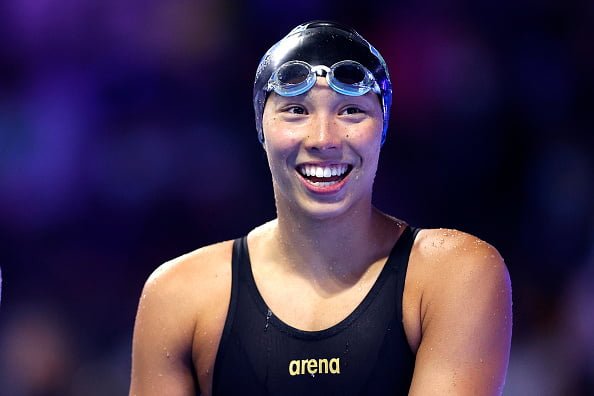 Torri Huske, an Olympian and native Arlingtonian, is one of the most interesting people you could ever meet. She has competed in some of the most prestigious swimming events in the world and has had an extensively successful career, all by the age of 19. 
Last summer, Huske competed in the 2020 Olympics which took place in Tokyo. During the competition, she and her teammates placed second in the world in the 4×100-meter medley relay. The medley relay is an event in which four contestants swim 100 meters in each of the four main strokes. During the race, Huske represented the United States by swimming the butterfly leg. 
Although she medaled in the 4×100-meter medley relay, Huske's favorite event is typically performed solo. 
"I like the hundred fly; that's my favorite event," Huske said. 
Even though that is her preferred race, she missed out on bronze in the Olympics during the contest by .01 of a second.  Despite this photo finish, she still maintained a positive outlook on the games as a whole.
"It was a really big honor to be representing not only your hometown, or your club team or your high school, but your nation," Huske said. 
While she was representing the United States at the Olympics, she spent her days living in the Olympic village. Due to COVID-19, the Olympics experience was different from that of a normal year. 
"We weren't allowed to leave the village because of COVID. It was really strict. So that was kind of sad, but it was very understandable," Huske said. 
Even though they were confined to the village, athletes there were in for a special culinary experience. 
"The dining halls had food from all different countries and areas. There was a different section for each different continent or country. Not every single country, but general food groups and stuff like that. So that was pretty cool," Huske said. 
On race days, Huske has a general routine which has proven to be successful.
"I usually like getting to the pool two hours before my race and then I would eat. I would eat a pretty good breakfast because I want to have energy," Huske said. 
Like any routine, this one in particular has been refined throughout the years. From her time in Arlington to her races in Tokyo, it is no doubt our community has impacted her swimming career. 
"A big portion of my life, high school in general, set me up for trials and the Olympics and stuff like that. I feel like Arlington Aquatic Club (AAC) was a really big part too. That's my club team. AAC was a really big part of my swimming," Huske said. 
While competing for our school, Torri and the rest of the Yorktown team won states. 
"I think that winning states our senior year was really special…. It was really nice to end on such a high note," Huske said. 
Torri Huske is one of, if not the most notable alumni of our school. She has been tremendously successful thus far in her career and looks forward to more success in the future. 
"Obviously [competing in the next Olympics] is the goal. It's going to be my junior year. I've already talked to my coach in college about taking time off from school so that I'll be able to focus more on my training during that year," Huske said. 
Even though Tokyo is 6,771 miles away from Arlington, the support our community offers is extremely important and cannot be understated. Our backing is the best way we can help athletes like Torri in their competitions. 
"Swimming and life in general are not something that you can get through alone. It takes a whole village," Huske said.