Pumpkin Spice Bars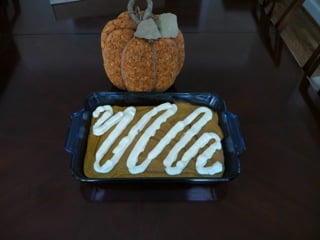 By: Joanna Domson
Sentry Staff Reporter
Fall is finally upon us.  The warm weather has come to an end, and students are beginning to bring out the sweaters and boots. The crisp autumn air also brings with it a myriad of pumpkin flavored coffees, cupcakes and pies. "Apple" is another popular fall flavor as well. If you find yourself making the same pumpkin bread and eating apples everyday, then try these recipes to welcome the new season.  The first is a pumpkin brownie topped with a delicious cream cheese icing.  The second is Great Grand Nanny's fingerlicking apple cake, a coveted family recipe.  Welcome fall with these delectable treats; your friends will definitely be asking for more!
Pumpkin Spice Bars: from Betty Crocker's 40th Anniversary Edition Cookbook
Ingredients:
4 eggs
2 cups sugar
1 cup vegetable oil
1 can (16 oz) pumpkin
2 cups all purpose flour
2 teaspoons baking powder
2 teaspoons ground cinnamon
1 teaspoon baking soda
½ teaspoon salt
½ teaspoon ground ginger
¼ teaspoon ground cloves
Steps:
Heat oven to 350°.  Grease 15 ½ X 10 ½ X 1 inch pan.  Beat together eggs, sugar, oil and pumpkin in a medium mixing bowl.  In a different mixing bowl combine flour, baking powder, cinnamon, baking soda, salt, ginger and cloves.  Then stir the flour mixture into the egg mixture.  Pour batter into pan and bake for 25 to 30 minutes or until light brown.  Let them cool and cut into bars.  Refrigerate or enjoy!  You can also frost with cream cheese icing and add raisins and walnuts if you like. Makes 49 two by two inch bars.
Great Grand Nanny's Apple Cake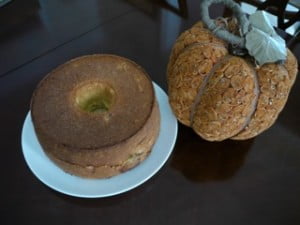 Ingredients
3 cup all purpose flour
2 cup granulated sugar
1 cup vegetable oil
4 eggs
2 ½ teaspoons baking powder
juice of one orange
6 apples, peeled and sliced thinly
2 teaspoons cinnamon
5 tablespoons granulated sugar
Steps:
Preheat oven to 350°.  Mix together flour, sugar, oil, eggs, baking powder and juice.  Set aside.  In a separate bowl combine apple slices, cinnamon, and sugar.  In a tube pan put a layer of batter, then apple mixture, then better, and finally apple mixture.  Bake for 1 hour and 15 minutes or until golden brown.