The Traveling Arlington Sports Hall of Fame Comes to Yorktown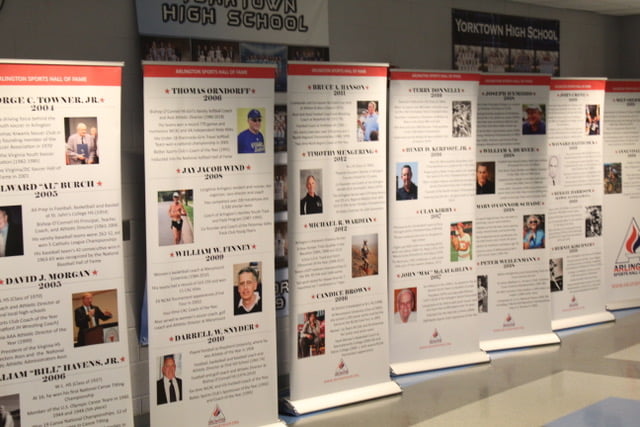 Joey Pickel, Sentry Staff Reporter
February 6, 2020
On February 6, an organization called The Arlington Sports Hall of Fame is coming to our school. The display, which consists of 14 mobile banners, will be on display in between the gyms until February 21.
"The Arlington Sports Hall of Fame has existed since 1958, it has always existed to honor and enshrine the memory of great Arlingtonian sports figures, whether they are athletes, coaches, or even administrators or officials, broadcasters or things like that," President Jim Smith said.
Only a few short months ago, The Arlington Sports Hall of Fame was displayed in its full glory. On September 5, for the first time in history, a huge visual exhibit was laid out at the Arlington Central Library. 
"When I first got involved in the Arlington Sports Hall of Fame …  I found out to my surprise that there was no physical Hall of Fame, it existed as an honor, but there was no [physical representation of the] Hall of Fame. I made it my objective the last few years to establish a physical Arlington Sports Hall of Fame where these great Arlingtonians could actually be honored and the Hall of Fame could be viewed by people around the county," Smith said.
 While a physical representation of a 61-year project may seem like a daunting task, Smith and the rest of the Hall of Fame board members came up with a relatively easy solution.
"The cool thing about it is, it is mobile, it can be exhibited all over … as we looked into it and investigated it, we became aware that we had the opportunity to have a mobile Hall of Fame that could be exhibited all over at different times. And so the new Hall of Fame consists of fourteen retractable mobile banners, that can be set up, retracted and put away very easily and quickly," Smith said.
The Arlington Sports Hall of Fame is an exclusive club, containing only 50 inductees throughout its illustrious 62-year history and our school is lucky to have several members.
John Crone was a multi-sport athlete who excelled at playing football and baseball. John D'Emidio graduated from Yorktown High School in 1973 and went on to coach Arlington Gymnastics for 46 years. Tom Dolan swam in three straight Olympics bringing home two gold medals as well as a silver. Bruce Hanson is the current Head Varsity Football coach and has accumulated over 260 wins. Bernie Kirchner is a 2019 inductee who played football and baseball for our school in the '60s and is widely considered one of the best athletes to come out of Arlington. Finally, Milt Sherman is arguably the greatest wrestler to ever come out of Yorktown.
The Arlington Sports Hall of Fame has been on the road since its introduction at the Central Library. Recently, it was on display for two weeks at Marymount University, and after its time in our school, it will pay visits to The Arlington Education Center as well as Washington and Liberty High School.
The Hall of Fame will be on exhibition in the hallway between the gyms from February 6 to February 21. For more information, visit http://www.arlsportshof.org/