Women's March Madness: Polar Opposite Regular Season to Tournament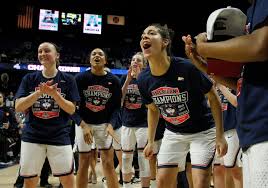 Joey Pickel, Sentry Staff Reporter
April 5, 2019
It is that time of the year again, time for busted brackets and broken hearts. This year's March Madness has been lacking one thing that was predicted from the beginning of the tournament, upsets. The NCAA Women's Basketball season had many unexpected twists such as The University of Connecticut losing two regular season games after not losing one for two straight seasons (despite heartbreaking losses in the Final Four), and the emergence of Rutgers and Ohio State as legitimate competitors in the loaded Big Ten Conference. This season was one of the most entertaining to watch in a while but have somehow resulted in one of the most boring 64 Team bracket tournament to watch in years.
To emphasize how predictable and dull this Tournament has been one has to look no farther than the scores of the games. The number one seeded Louisville blew out the bottom seeded Robert Morris by a score of 69 to 34. Baylor wiped the floor with 16 seeded Abilene Christian, scoring more than double of their points in the process, defeating them 38 to 95. Sure, there have been good games against evenly matched teams like the Drake Bulldogs losing by one point to the Missouri Tigers in overtime, but the point of that is that was what was supposed to happen. Top to bottom Missouri has a better team and that is why they have been rewarded with the seven seed and the Bulldogs had one of ten.
Men and Women's College Basketball both have a dominant team that everyone expected to run away with the championship,. The boys had Duke with Zion R.J. and Cam (despite their recent upset loss to Michigan State), whereas the girls have Notre Dame with Arike Jessica Jackie and Brianna. Coming off their 2018 National Championship, Notre Dame is simply stacked. To put into perspective how good this team is, the average college basketball team has maybe one to two players who average points in double figures, Notre Dame has five. Leading the way is former Most Outstanding Player of the National Title Game, Arike Ogunbowale, who ironically wears the number 24, and plays in a way similar to the great Kobe Bryant. Ogunbowale is a shooter best in clutch moments and can galvanize the team with her fiery ambition and work ethic.
Nothing demonstrates this better in her game-winning shot against Connecticut to in the Final Four. In the paint also happens to be one of the best rebounders in the nation, Jessica Shepard. Shepard average ten rebounds per game to go along with her near 17 points. Besides those two players, Notre Dame also has the on of the best backcourts in Women's College Basketball with superb three-point shooters such as Marina Mabrey and Jackie Young. It is an understatement to say this team is good, they are excellent.
After failing to build on the four-peat that started in 2013 and ended in 2016 (due to two heartbreaking losses in the Final Four), Uconn entered the 2018-2019 season facing something they rarely do, adversity. After the surprise departure Azura Stevens, a woman who happened to be one of the best rim protectors in college, Uconn usually tout defense finally seemed like there could be some holes. Despite the fact that their defense may have weakened some, Uconn relied on their juggernaut-like offense to make up for that. Uconn as a team was fourth in points scored in all of NCAA scoring 89.4 points a game and was third in team assists with 22.8.
Scoring is lead by the two-headed monster combination of Napheesa Collier and Katie Lou Samuelson, who together almost average 40 points a game.  Distributing the ball happens to be all around stud point guard Crystal Dangerfield who can effectively pass the ball, averaging 5.8 assists, and shoot well enough. Uconn has silenced all the critics it had been gathering and has been playing great offensive basketball.
Oregon is the Golden State Warriors of the NCAA, almost everybody can shoot threes. Four out of the five players on the Oregon starting lineup shoot at least 40% from behind the arc, and the only person who does not is Ruthy Hebard, a woman who routinely dominates the paint and tallies up boards. Oregon also has the best player in all of college basketball, Sabrina Ionescu. Ionescu is simply the best shooter in the NCAA. Her three-point percentage is 43.3%, free throw percentage is 88%. Her elite scoring does not come alone, either. She also gets 7.5 rebounds a game to go along with 8.2 assists. She might be the most complete basketball player, male or female, to ever come out of college since Oscar Robertson. She is that good.
How the Baylor Lady Bears were able to obtain a record of thirty-five wins and one loss with the players they have compared to the other teams previously mentioned is beyond many people. Baylor does not have a single scorer scoring anything more than 15.7 points a game, and only one member of their starting lineup is a good three point shooter. When looking closely at how The Lady Bears play, it becomes clear that they have ditched the modern three and deep style of play for old fashion bully basketball.
Baylor bullies players in the paint and gets many opportunities for second-chance points due to two starters, being Kalani Brown and Lauren Cox, get at least eight rebounds a game and another two in Juicy Landum and NaLyssa Smith who both get over five. Baylor's interior dominance and old school play has resulted in many wins, so much so that they could reverse the new three and deep formula to a more traditional way to play James Naismith's beloved game.
A predictable tournament has left viewers with a predictable Final Four, after winning in the Elite Eight Uconn was the first to clinch,and then was followed by, Oregon, Baylor and Notre Dame. Hopefully, next year provides a more exciting March Madness.