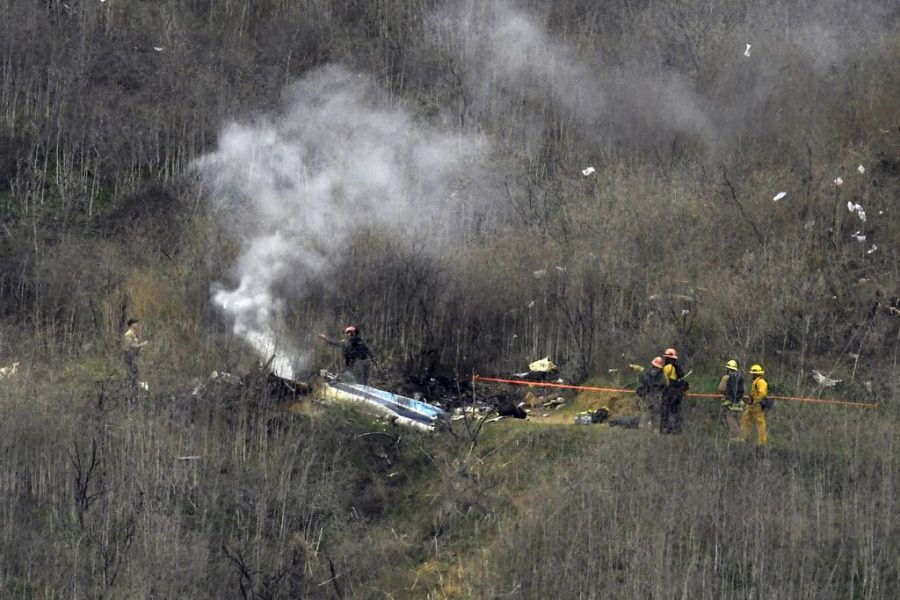 Courtesy of Mark J. Terrill
On the morning of Sunday, January 25, the world tragically lost an incredible icon. Kobe Bryant and eight others, including his 13-year-old daughter Gianna, passed away in a shocking helicopter crash in Calabasas, California, as they were flying to Bryant's basketball facility for a youth tournament. 
Bryant's shocking death was sure to be colossal news that would dominate the media landscape, however; it was reported recklessly by various outlets that released different numbers and made contradicting claims. These outlets prioritized getting facts out before verifying their accuracy, which culminated in the dissemination of a smorgasbord of wrong information.
The victims' families deserved the proper privacy and time to digest the tragedy and mourn the loss of their loved ones, but TMZ deprived them of that basic privilege. Before the Bryant family could even be informed of the crash by local authorities, TMZ released a story headlined: "BREAKING: Kobe Bryant Has Died In A Helicopter Crash." This was at 11:32 a.m. Pacific Time (PT), around 90 minutes after a distress call for a crashed helicopter, according to Los Angeles Police Department (LAPD) deputies. 
It is unclear how TMZ acquired this information before authorities could even notify the families of the victims. TMZ clearly has a strong inside source in the L.A. police force, as they have routinely been first in reporting high-profile celebrity deaths in the area. However, it is peculiar that their source for this particular story gave them this breaking news when loved ones were still unaware of what happened. While they were ultimately correct in their initial report of Bryant's death, it was still inappropriate and premature to rush out the news.
"It would be extremely disrespectful to understand that your loved one perished and that you learn about it from TMZ," Los Angeles County Sheriff Alex Villanueva said.
TMZ's initial story was followed by a wave of other organizations scrambling to confirm the report and find more information. NBC News took a more measured approach by announcing that Bryant's helicopter had crashed, while clarifying that it was still unclear who was on board. ABC News did the opposite, as reporter Matt Gutman interrupted the NFL Pro Bowl coverage to announce details that were proven wrong almost immediately. 
"The fact that four of his children are believed to be on that helicopter with him – all daughters, one of them a newborn – is simply devastating," Gutman said during the broadcast, as millions listened.
Soon thereafter, at 12:05 p.m. PT, the Federal Aviation Administration's (FAA) Twitter account released details on the crash, noting the facts were preliminary findings and subject to change. Among these details was the report that five people were killed, and the FAA cited local authorities for that number. This contradicted what Gutman had just reported, as his story would require at least six people – Bryant, his four daughters, and a pilot. 
But Gutman's false report had already caused damage. WPLG Local 10 News, an ABC-affiliated television station licensed across the US, had tweeted out Gutman's information to its 171,000 followers. Gutman's faulty reporting, that was proven incorrect just minutes after he announced it on national television, reached millions. This spread of false information was devastating to the public's understanding of what really happened. 
As Gutman's false facts were circulating around social media, another incorrect rumor began to spread. While the original source of the information is still unknown, some began to claim Rick Fox, former NBA teammate of Bryant, was also on the helicopter and died in the crash. This was met by more skepticism, as it was clear the numbers did not add up. The claims were easily debunked within the hour, as Fox's Twitter account was active at the time and an NBA source reached out to him and confirmed he was alive. Later that day, Fox's family, as well as a spokesman for him, verified that he was not on board, permanently ending the speculation. 
At 12:45 p.m. PT, ABC revised Gutman's report, saying that Bryant's four daughters were not on board the helicopter (Gutman apologized on-air and online hours later). Then just one minute later, TMZ contradicted that report, stating Bryant and his daughter Gianna were killed in the crash. This was later proven correct.
In just 71 minutes since the original TMZ release announcing Bryant's death, an abhorrent amount of reckless and incorrect reports had circulated about the crash, misleading millions. The Pro Bowl reportedly had around 2.67 million viewers, who were all exposed to Gutman's incorrect report. The rush to be first among journalists caused great confusion, just because reporters prioritized speed over accuracy.
Over the course of the day, more reputable journalists such as ESPN's Adrian Wojnarowski reported correct details and the immediate wave of wrong information after the crash settled down. More facts emerged, as it was discovered that nine, not five, people were in the helicopter. 
For journalists, the heartbreaking crash and imprudent reporting afterwards should be a necessary reminder that being correct is more important than being first. The first news outlet to get a scoop on breaking news often gets the majority of shares on social media and attracts the most viewers on television, and all outlets strive to be able to say they were the first to cover an event. But all of that means nothing if they are factually wrong. 
As news shifts foremost to online platforms such as Twitter, bad journalism's impacts are amplified. Journalism is meant to inform, and it is imperative for reporters to tell a full, accurate story. These false reports were disrespectful to the Bryant family and unfairly distressed those who were already mourning. It is fair to assume that a substantial amount of breaking news reporting will end up being wrong, but the frenzy that ensued after the crash was unprecedented. The sheer amount of wrong reporting was repugnant and unacceptable. 
If the journalism world was perfect, the media would always be respectful, thoughtful, uncompromising in finding the truth and, most importantly, ethical. While perfection is clearly an unattainable goal, news outlets must hold themselves to a higher standard. 
Bryant was a transcendent athlete that led the Los Angeles Lakers to five NBA championships, but his remarkable career is so celebrated because of his relentless work ethic, unique killer instinct and unwavering belief in himself. He was a scoring magician, an 18-time All-Star and the unquestioned face of the league for many years, yet his death is heartbreaking because his story off of the court feels disturbingly incomplete. Bryant's profound career ensured that his passing would be poignant, but the feeling that his greatness in retirement was only just beginning makes the crash even more jarring. 
Bryant was an inspiration to millions as he encouraged his daughters to chase their passion for basketball and acted as a philanthropist through his Kobe and Vanessa Bryant Family Foundation. In 2018, he won an Oscar for his role as producer in the short film Dear Basketball. He mentored inexperienced professionals, worked out with established superstars and opened an enormous multisport athletic facility called Mamba Academy to help train young athletes. It is clear that it was only just the beginning. 
The Bryant family, as well as the families of the other victims, will now mourn in pain. They deserved better than the whirlwind of inaccuracies from the media.