Beth Gentsch and Taylor Ouzts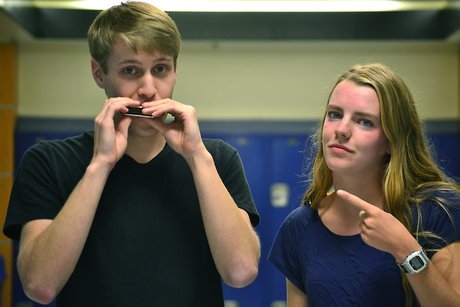 Beth Gentsch and Taylor Ouzts, Sentry Staff Reporters
September 29, 2015
Filed under Staff Articles
Hang on for a minute...we're trying to find some more stories you might like.
The year is 2030. Taylor Ouzts starts his perfect day by diving into a pool of orange juice. Who needs an ordinary glass for breakfast when you have something a whole lot better?
Cue Ouzts's walkup song and life anthem, "Thunderstruck" by ACDC. After breakfast he brushes his teeth in the bathroom, looks in the mirror and decides to chop off his man bun.  Now that he has achieved his lifetime goal of selling out Madison Square Garden, he doesn't need hair accessories to prove himself. His name alone is enough.
Flash back to the present, where Ouzts is a senior teetering on the edge of a  childhood under his parents' roof before he embarks on a greater journey.
"My greatest fear as of right now is not knowing what I'm going to do, how my life is going to turn out, or what college is going to be like," said Ouzts.
Although Ouzts is unsure of what the future holds, there is no doubt that it is filled with great potential. He mentioned that he mostly plays guitar and piano, but occasionally dabbles in drums and other percussion instruments.
If Ouzts were to have a "Treat-Yo-Self" day, a day inspired by the character of Tom Haverford in "Parks and Recreation" where one literally treats his or herself all day, he would not treat himself to a box of Ho-Hos or a brand new watch like some might. He does not have time for such simple material objects, and would invest in something much more meaningful–something geared towards his passion for music.
"I would probably go to a music store or guitar center and just take everything out, the whole thing," said Ouzts.
When Ouzts is not engaging in musical activities, he might opt to go outdoors and engage in some adventure.
"I really, really enjoy whitewater rafting and kayaking," said Ouzts.
Luckily, Ouzts's character seems to be wholly intact and ready to take on any sort of spotlight that may fall in his path in the next few decades. When asked which Hogwarts House he would most likely be sorted into, Ouzts decides that he would hop on the bandwagon and join Gryffindor.
"Harry and his friends and all them just seem so together, very loyal and trustworthy and I like that," said Ouzts.
Beth Gentsch is one of the most laid back, open minded people you could ever meet  When asked who she would elect to switch places with for one day, she chose Caitlyn Jenner; she did not bat an eye when giving her response.
"You get to see how things are in the celebrity world, but it would also be interesting to see how people to treat her to her face," Gentsch said.
Gentsch is a passionate, free spirit and spends her time doing activities she enjoys such as swimming, sailing and watching Netflix (not Netflix and chill). While she is considering studying journalism or communications and perhaps even medicine at college, she, like most high school seniors, really does not know what she will do after graduation.
"I have no clue, but I have a lot of ideas," Gentsch said.
There is no one answer in Beth's mind when it comes to the career field, and there isn't any in her music taste either.
"I like everything pretty much. I like country and some rap, but I don't have a favorite."
For music lovers, this answer is the best answer. She also answered the question of who she would date from a band based on their instrument.
"Probably the drummer, drummers are always cool. They're always in the background, but you can't have a band without a drummer." Gentsch said. Look out, Dave Grohl.
When asked if she could go back in time and give herself advice, she eloquently said, "Don't stress the small things, it'll all work out." While Gentsch may not exactly know where she wants to land, she is going to get there and it is going to be great.
1,238 total views, 2 views today