Jumping for Jobs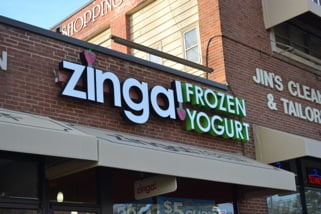 Hang on for a minute...we're trying to find some more stories you might like.
Italian Store – Sam Wall
Zinga – Maya Leyden
Taqueria El Pablano – Kalina Newman
The adolescent years are a notoriously tough time for young adults; it is no easy feat to balance high school classes, activities and sports, college applications and a social life. On top of all of that, teens rarely have a steady source of income. Some may receive a generous monthly allowance from their parents, or are fortunate enough to snatch a babysitting gig every other weekend. Finding and keeping a real wage is definitely challenging while still in high school. Luckily, Arlington has abundant opportunities for youth to find work.
Working in the food industry is the most accessible and popular occupation for most teens in Arlington. With a variety of different establishments, from sit-down restaurants to self-serve frozen yogurt shops, job opportunities in the food industry are plentiful. Junior Maya Leyden has been working at Zinga! Frozen Yogurt on Sycamore street since August of 2013. Although she works year round, some seasons are better than others for froyo.
"I like working during the summer, because that's when it's busy. During the winter, not a lot of people come in; you know, cold weather, frozen yogurt, not a good mix," said Leyden.
Zinga! has a good record of hiring high school students, seeing as Leyden is not the only high schooler currently employed. At minimum wage, employees get $7.50 an hour and, as Leyden remarked, rarely gets tips. Although it might not be the highest paying job in the world, it is a convenient one. When asked how often she works, Leyden answered,
"It depends, during the winter I work maybe one or two days so that's between three to six hours a week. But during the summer I try to work maybe five days a week, so maybe 20 hours a week."
Another convenience of working at a place like Zinga! is the ability to balance school and a job.
"It's hard, but sometimes I'm able to bring in my homework to Zinga! because it's not busy during the winter so I have time to do homework while I'm working. I try to plan around when I send in my availability every week for what school work I know I have to do that week," said Leyden.
While there are many benefits of working at Zinga, like the 40% off all yogurt and toppings, it is not exactly the most challenging job in the world.
"There isn't much to do. All you have to do is fill up the machines with liquid and cut up the occasional strawberry and set it out and clean tables," explained Leyden.
The level of difficulty of working at a simple place like a frozen yogurt shop could definitely be an advantage for many high school student. With stress in almost every other part of their lives, having an easy job might be nice. For some, it might actually be too easy. Leyden explained how she would love to have a more challenging and creative line of employment.
"I would maybe like add some creative aspect to it, because I'm a really creative person, I like to think. It would be really fun if I got to do some sort of maybe design or work with the logo or something."
After many long hours spent at the little shop on Sycamore street, Leyden has the best flavors and combinations all figured out.
"My favorite flavor has to be between vanilla custard and apple pie. Actually, a mix of the two is delicious."
Not all food industry jobs are as simple as working at a froyo shop. Junior Sam Wall has been working at the Italian Store on the corner of Spout Run and Lee Highway for about a month and a half. He seems to really enjoy his job, and the benefits it comes with, even though it proves to be a bit more trying than a job at Zinga!
"I make sandwiches and heat up pizza for people and deal with a lot of the food stuff," said Wall. "If we have pizza left over at the end of the night we get to take it home. We also get a 50% discount at the store, which is nice."
Any employee at the Italian Store should be pretty content with their job, seeing as they get paid a whopping $9 an hour. On top of that, they get tips every other paycheck which adds one dollar for every hour worked. That kind of money can definitely make a high schooler's life that much easier.
"It's nice to have a constant stream of money coming in, for stuff like gas and food," said Wall.
Wall has found a good balance between work and school. He chooses to work for about 10 hours each week, one shift on Saturday and one on Monday. This leaves him time to get his homework and studying done, but also have enough money to feel comfortable.
"Since I only work one weekday a week, it's really not that hard to manage. I just have to do my homework that is going to be due Tuesday on Sunday night because I work on Mondays," said Wall.
With all the food store options in Arlington, the Italian Store is one of the most popular for a delicious slice of pizza and one of the most beneficial for employees. Wall said there is only one negative aspect of his job.
"I end up smelling like the Italian Store. All my clothes smell really bad after I work. That's really the only downside."
Compared to working at a real sit-down restaurant, serving pizza and frozen yogurt can seem elementary. Senior Kalina Newman has been working at Taqueria el Pablano at the Lee Harrison Center for six months.
"I am a hostess most of the time, but then if I want to I can also bus, which means I clean tables and I take food out and give it to servers and stuff. But you can't be a server until you're 18," said Newman.
While Taqueria only pays minimum wage, it is possible to make extra money in tips. Newman gets $7.50 an hour but when she buses she usually makes about $30 in tips per shift, a shift being from 4:45 PM to around 9 PM. Her typical work week is only about 10 hours, so like Wall's, it is manageable.
"When I'm hosting and it's not busy I can bring in my homework and just do it while I'm technically working . Otherwise, it's just the same as if you're doing a sport or something," said Newman.
Although at times it can be easy, convenient and rather attainable, working in the food industry has it's frustrating moments. As many high school employees know, having a job is not always all fun and games.
"I don't like it when it gets stressful and people are rude. Customers can be really rude, even though I'm a hostess and not a server. It's made me really realize how hard it can be to be a service worker and how underappreciated people are, especially with adults having to work so much for just making minimum wage," explained Newman.
Flexible hours make Zinga!, the Italian Store and Taqueria great places to work in Arlington. With determination and a little extra work, they are manageable jobs to hold while still keeping up with school and receiving a steady income. These are just three of the wonderful job opportunities for high schoolers around town. In fact, if you are looking to start work as soon as possible, just walk over to Taqueria and pick up an application today.
"We're hiring!" said Newman.
592 total views, 2 views today