Athlete of the Month: Rudolph the Red Nosed Reindeer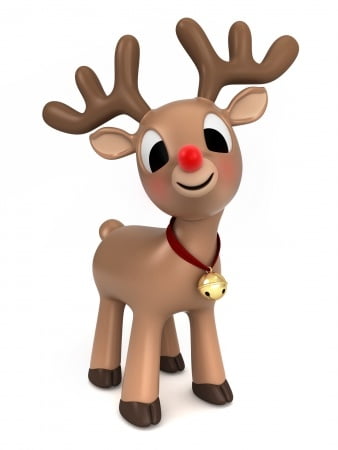 Hang on for a minute...we're trying to find some more stories you might like.
Rudolph the red nosed reindeer has succeeded in helping Santa Claus give gifts to every deserving child year in and year out.  It is about time we take a minute to appreciate such strength, willpower and perseverance, so I decided to sit down with the hero of Christmas to discuss what separates him from the other reindeer.  A translator was present for this interview.
What kind of training do you do in preparation for Christmas?
I do a lot of sprints in deep snow to help build agility and endurance.  I also push sleds filled with snowmen to prepare for pulling the sleigh on the big night.  What many people do not realize is that many families leave out food for Santa, but he cannot possibly eat all that food so he gives it to us reindeer to replenish. The job really isn't that bad.
To what do you credit your success every single year?
Just imagining the joy that children must have when they open their presents gives me incredible satisfaction and the inspiration I need to succeed.  I have to give my fellow reindeer credit though. Pulling Santa's sleigh is a team effort, and I could not have done it without the other 8 reindeer.  Dasher, Dancer, Prancer, Vixon, Comet, Cupid, Donner and Vixen are like brothers to me.
How has your nose influenced your success?
My nose is my moneymaker.  At the altitudes we fly, visibility is limited so it helps to have something bright to guide the sleigh.  In the offseason, the nose makes for a terrific reading light.
Do you listen to any pump-up music on Christmas Eve to get you ready for the big night?
Nothing gets me going like some good ol' Christmas carols. My playlist consists of "Deck the Hall," "Joy to the World" and "The Little Drummer Boy." For whatever reason, they get me hyped.
What is the best part of being the leader of Santa's sleigh?
Most people have to look up the rest of the reindeers' names on Wikipedia.  Everyone knows Rudolph.
What is something no one else knows about being a reindeer?
People think reindeer are related to regular deer.  Can a regular deer fly? I don't see Bambi bringing Christmas joy.  It is offensive to consider us as equal to regular deer.  Not many people are aware of this, but there is actually a lot of tension between the two species.
How fast do you have to go in order to takeoff?
Us reindeer go from 0 to 100 real quick.
5,541 total views, 10 views today